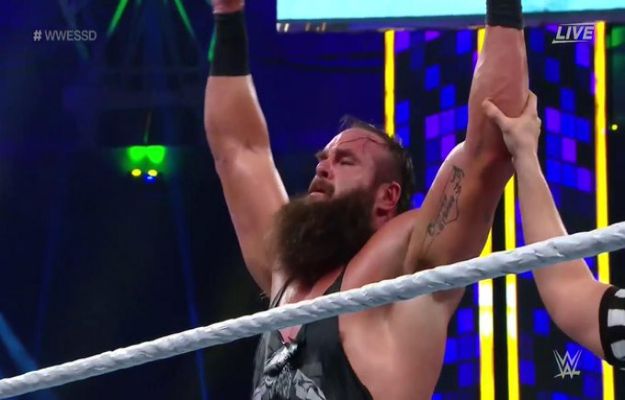 Braun Strowman derrotó a Bobby Lashley en WWE Super Show Down | Seguimos en el show de WWE en Arabia Saudita, donde Braun Strowman ha derrotado a Bobby Lashley tras aplicarle dos running powerslam seguidas.
Planeta Wrestling, la web número uno de WWE en Español te trae la mejor cobertura de Super ShowDown 2019 en vivo y toda la información de última hora del gran show de Arabia Saudita.
Braun Strowman derrotó a Bobby Lashley en WWE Super Show Down
Braun Strowman sigue acumulando victorias tras derrotar a Bobby Lashley en un gran combate de poderío físico donde Braun Stroman logró oponer su fuerza a la de Lashley y tras aplicarle dos running powerslam seguidas, obtuvo la victoria en un intenso combate entre ambos.
What happens when two COLOSSAL athletes like @fightbobby and @BraunStrowman meet in the ring at #WWESSD? THIS! pic.twitter.com/vF9pDlOM93

— WWE (@WWE) June 7, 2019
¿Cómo obtuvo la victoria Braun Strowman?
Ambos luchadores comienzan midiendo su fuera al principio del combate, pero es Braun Strowman es el que doblega a Lashley en todas las batallas de fuerza a las que se exponen. Strowman plancha varias veces a Bobby Lashley, pero este consigue levantar a Strowman y plancharlo contra la lona, aunque la cuenta solo llega a dos.
Bobby Lasley aplica llave al cuello de Braun Strowman e intenta que se rinda, pero no lo consigue ya que el gigante se suelta con un rompe espinas y lo plancha con el hombro varias veces. Ahora hace lo propio pero en ringside.
La acción se traslada al ringside, donde Lashley estampa a Braun contra la barrera de protección y luego le aplica un suplex sobre la rampa, aunque esto no le llega para ganar. Tras varias contralonas de poder Braun Strowman consigue la victoria.
No te pierdas la cobertura de Super ShowDown en vivo