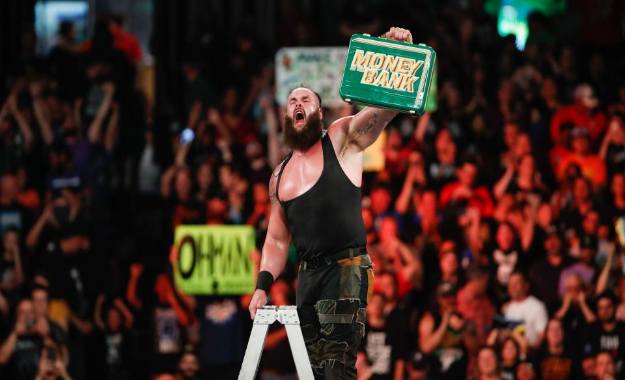 Planeta Wrestling, la web número uno sobre WWE en español, te trae las declaraciones y el Vídeo de Strowman advirtiendo a Lesnar tras proclamarse Mr. Monster in the Bank en el PPV de WWE que se emitió anoche a través de WWE Network.
Vídeo de Strowman advirtiendo a Lesnar
Como se ve en el vídeo a continuación, Mike Rome se encontró con Braun Strowman después de ganar su maletín de Money In the Bank en el main event del PPV WWE Money In the Bank de la noche anterior y le preguntó qué sucederá ahora. Braun envió una advertencia al Campeón Universal WWE Brock Lesnar.
Strowman dijo: «Tú y cualquier otra persona en el Universo WWE saben lo que viene. Dos palabras: ¡Brock Lesnar!»
El Mr. Monster In the Bank también llevó a Twitter después del show para emitir una advertencia a The Beast:
https://twitter.com/BraunStrowman/status/1008563878194761728
Braun Strowman ganó el Men's Money in the Bank Match
Braun Strowman dijo que iba a ganar el contrato de Money in the Bank y sacar provecho del contrato para ganar al Campeón Universal, Brock Lesnar. Él está un poco mas cerca. The Monster Among Men es ahora el Sr. Monster in the Bank, tras haber enviado a Raw su segundo contrato de la noche para establecer un enfrentamiento potencial entre los súper pesados del Team Red.
Por desgracia, el terreno se equilibró demasiado eficientemente para impedir el último empujón de Strowman por el contrato. Bálor terminó cara a cara con Strowman en el otro extremo de la escalera, mientras que Kofi, habiendo guardado su mejor jugada para el final, se aferró a la espalda de Strowman, con la esperanza de conseguir el contrato por sí mismo. Ambos fallaron. Finn fue derribado, Kofi fue empujado, y dos segundos después, el contrato de Money in the Bank estaba firmemente en manos de These Hands.