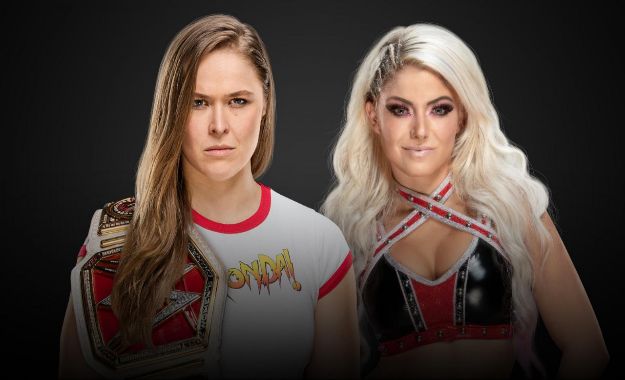 Posible spoiler para el RAW Women's Championship match en Hell in a Cell
Posible spoiler para el RAW Women's Championship match en Hell in a Cell | No parece que Alexa Bliss vuelva a recuperar el título femenino de RAW en su combate contra Ronda Rousey en el evento Hell in a Cell del domingo.
Mike Johnson de PWInsider mencionó en la hoja de consejos para Hell in a Cell que no cree que la compañía vuelva a poner el título en Alexa Bliss tan cerca del próximo evento WWE Evolution, especialmente con WWE construyendo el evento alrededor de Ronda Rousey.
«No hay forma de que Bliss recupere el cinturón un mes antes del PPV Evolution, que se construirá alrededor de Ronda Rousey».
Johnson especula que el combate será corto con Rousey reteniendo a través de su sumisión, el ambar.
Cartelera de WWE Hell in a Cell 2018
Universal Championship Hell in a Cell match con Mick Foley de árbitro especial: Roman Reigns vs Braun Strowman
WWE Championship: AJ Styles vs Samoa Joe
WWE RAW Tag Team Championship: Drew McIntyre y Dolph Ziggler vs Dean Ambrose y Seth Rollins
WWE Smackdown Women's Championship: Charlotte Flair vs Becky Lynch
The Miz & Marise vs Daniel Bryan y Brie Bella
WWE Smackdown Tag Team Championship: The New Day vs Rusev y Aiden English
WWE RAW Women's Championship: Ronda Rousey vs Alexa Bliss
Hell in a Cell match: Jeff Hardy vs Randy Orton
Lita y Trish Stratus ya tienen sus combates en Evolution
Con el anuncio del combate de Lita en Evolution, las dos luchadoras mas reconocidas de la historia de WWE, La propia Lita y Trish Stratus ya conocen sus rivales para el próximo PPV Evolution del 28 de octubre.
Ambas luchadoras no han vuelto a pisar un ring de WWE desde el pasado Royal Rumble femenino donde las dos participaron, y faltará ver en que nivel de estado físico se encuentran actualmente para poder llevar un combate.
Lita contra Mickie James deja en el aire aquellas posibilidades de ver a la luchadora contra alguien contra quién no haya luchado antes como Bayley o Sasha Banks, mientras que para Trish si que le han puesto una rival con la que nunca ha luchado, al ponerla contra Alexa Bliss.