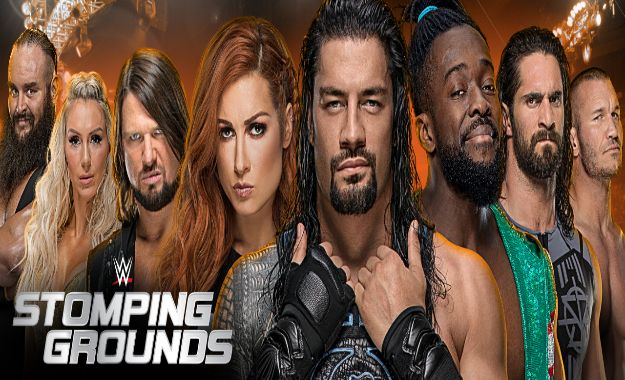 WWE Stomping Grounds se celebrará el 23 de junio. El PPV vendría a sustituir a Backlash y sería el evento especial del mes de junio en Tacoma.
WWE Stomping Grounds se celebrará el 23 de junio
El Tacoma Dome publicó un video el lunes, anunciando oficialmente que WWE celebrará un nuevo evento de pay per view en su recinto el domingo 23 de junio, titulado «Stomping Grounds». Las entradas para el espectáculo aún no están a la venta.
JUST ANNOUNCED: WWE returns with WWE Stomping Grounds Pay-Per-View live on Sunday, June 23! Tickets go on sale this Friday, May 3.Enter for a chance to win four tickets to WWE Stomping Grounds PPV before tickets go on sale! Contest is open 10 am. 1️⃣ Enter daily with your email address2️⃣ Get bonus entries when friends sign up through your share link3️⃣ Sweepstakes closes at 2pm this Thursday, May 2Enter now: https://woobox.com/8yyfip

Publicada por Tacoma Dome en Domingo, 28 de abril de 2019
El video también menciona que Randy Orton vs Roman Reigns se llevará a cabo «por primera vez en Tacoma». Vale la pena señalar que estos anuncios no siempre se cumplen y que la cartelera está sujeta a cambios.
El calendario de WWE ha cambiado, ya que ha habido cambios importantes en las últimas semanas. El espectáculo de Arabia Saudí de WWE se trasladó desde principios de mayo, antes del Ramadán, hasta principios de junio, después del Ramadán. Como resultado, se canceló el pay per view de Backlash programado para el 16 de junio debido a la proximidad con el show de Arabia Saudi mencionado anteriormente, con Stomping Grounds reemplazándolo una semana después. WWE también ha discutido sobre el cambio de un especial Taveover, NXT San Jose que se incluyó en su calendario.
Calendario de PPV del 2019 de WWE
WWE Money in the Bank – May 19, 2019 in Hartford, CT
Saudi Arabia PPV – June 7, 2019 in Saudi Arabia
WWE Stomping Grounds – June 23, 2019 in Tacoma, WA
WWE Extreme Rules – July 14, 2019 in Philadelphia, PA
WWE SummerSlam – August 11, 2019 in Toronto, ON
WWE Hell in a Cell – September 15, 2019 in Atlanta, GA
WWE Clash of Champions – October 6, 2019 in Sacramento, CA
Saudi Arabia PPV- November 1, 2019 in Saudi Arabia
WWE Survivor Series – November 24, 2019 in Chicago, IL
WWE TLC – December 15, 2019 in Minneapolis, MN
Esto es lo que hay anunciado ahora mismo aunque todo podría cambiar, pero si eso ocurren en Planeta Wrestling te lo contaremos.