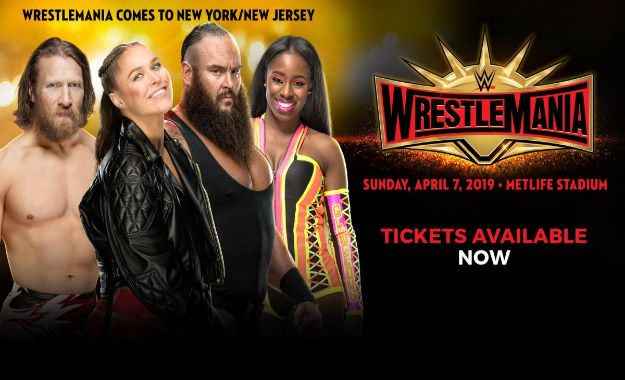 WWE Axxess Wrestlemania 35 se celebrará en el Barclays Center de Brooklyn desde el 4 de abril hasta el 8 de abril, ampliando este año un día.
WWE Axxess Wrestlemania 35 será en el Barclays Card
La semana de WrestleMania de la WWE llegará al área de Nueva York / Nueva Jersey en abril. Estaban vendiendo entradas para el evento Axxess, pero WWE estaba teniendo problemas para localizar una ubicación que pudiera satisfacer sus necesidades.
WWE envió un correo electrónico a los fans para informarles que WrestleMania Axxess se llevará a cabo en el Barclays Center este año. Este edificio y la WWE comparten mucha historia porque ha sido anfitrión de SummerSlam durante los últimos años.
WrestleMania Axxess update: #WrestleMania #Axxess pic.twitter.com/g7rIHK2OPO

— Thomas (@HeelThomas1999) 1 de febrero de 2019
¿El único lugar disponible para el Axxess?
Con el Madison Square Garden sin posibilidad para hospedarlo debido al G1 Supercard de Ring of Honor y NJPW. Ya que eso cortaría las festividades de Axxess y tampoco estamos seguros de lo bien que está WWE con MSG en este momento. Por lo tanto, se tomó la decisión de volver al Centro Barclays.
Brad Shepard informó esto en noviembre del año pasado por esta opción. Ahora, la WWE está oficializando que WrestleMania Axxess está llegando al Barclays Center.
WWE confirms WrestleMania 35 Axxess will be held in Brooklyn, as I first reported in November of last year! #OYDKWS #WWE #RAW #SDLive https://t.co/YBCFj8m8hD

— Brad Shepard (@TheBradShepard) 1 de febrero de 2019
"…Brooklyn is hosting Axxess for WrestleMania 35." – November 21, 2018, Episode 3 of the #OYDKWS. https://t.co/2PHO1kPYWs Timestamp: 56:30 https://t.co/euLtv9unEa

— Brad Shepard (@TheBradShepard) 1 de febrero de 2019

Como ya sabéis de otros años, el equipo de Planeta Wrestling se desplazará a New York, para Wrestlemania 35 y os traeremos todo lo que acontezca ese fin de semana y como no. os traeremos un vídeo con lo mejor de Axxess.