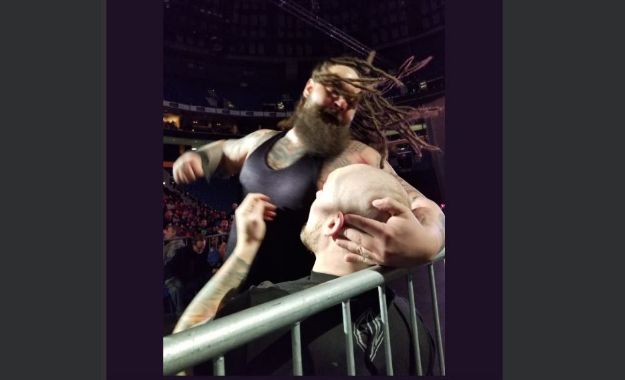 Planeta Wrestling, la web número uno sobre WWE en español, te trae los resultados de los dos WWE Live Shows del 30 de diciembre celebrados en Tampa y en Buffalo, con fotos y vídeos de ambos shows.
Resultados de los dos WWE Live Shows del 30 de diciembre (Tampa, Florida)
* Campeones  SmackDown The Bar han retenido sobre The Usos y The New Day en una triple amenaza
The Bar pose. @WWECesaro and @WWESheamus have it on lock. #WWE #WWETampa pic.twitter.com/PiBBFSyj1H

— Scott Fishman (@smFISHMAN) December 31, 2018
* Killian Dain salió y realizó una promoción de heel en Tampa. Emitió un desafío abierto y fue aceptado por Titus O'Neil.
* Titus O'Neil derrotó a Killian Dain con un Clash of Titus
An Open Challenge was issued at –#WWETampa and @TitusONeilWWE was happy to oblige! pic.twitter.com/hknYit5lYn

— WWE (@WWE) December 31, 2018
Mustafa Ali derrotó a Andrade «Cien» Almas con el 054. Después del combate, Zelina Vega tomó el micrófono y se quejó de que el combate era injusto. Carmella y R-Truth interrumpieron y sugirieron un descanso de baile para relajarse. Vega y Almas empezaron a bailar pero los atacaron. Truth y Carmella contraatacaron.
Mas Tranquilo con @AndradeCienWWE and @Zelina_VegaWWE #WWETampa pic.twitter.com/mxF6rQ7xf6

— Richard Trionfo (@RichardTrionfo) December 31, 2018
Thanks for all the love #WWETampa pic.twitter.com/KYdUJFiXKP

— Mustafa Ali / Adeel Alam (@MustafaAliWWE) December 31, 2018
* Samoa Joe salió con un micrófono y le dio a Jeff Hardy una última oportunidad de alejarse antes de que saliera lastimado y decepcionara a sus fanáticos esta noche. Jeff interrumpió y se negó a rendirse.
* Jeff Hardy derrotó a Samoa Joe con un Twist of Fate and a top rope splash, sin Senton
* John Cena derrotó a The Miz. Cena había terminado realmente y Miz hacia de heel. Cena ganó con el nuevo movimiento Lightning Fist.
.@JohnCena has a message for the #WWEUniverse and #SDLive heading into 2019! #WWETampa pic.twitter.com/m7NbWYYO8g

— WWE (@WWE) December 31, 2018
Descanso
* Lana y Naomi derrotaron a Mandy Rose y Sonya Deville. The IIconics fueron las anunciadoras especiales de invitados para el combate. Intentaron interferir en un punto, pero el árbitro las envió fuera.
I totally get it now @WWEGraves … @WWE_MandyRose is stunning #WWETampa pic.twitter.com/lrlyehotYA

— Mary-Kate Anthony (@marykayfabe) December 31, 2018
* El Campeón de la WWE en Estados Unidos, Rusev, retuvo ante Shinsuke Nakamura con un Kick Machka
* La campeona femenina de SmackDown, Asuka, se mantuvo sobre Becky Lynch y Charlotte Flair en una triple amenaza. Flair recurrió al Asuka lock
#WWETampa @WWEAsuka vs @MsCharlotteWWE vs @BeckyLynchWWE . pic.twitter.com/Jb7NKSOgAx

— Women All Day (@_WomenAllDay) December 31, 2018
#WWETampa #TheMAN @BeckyLynchWWE breaking up the submission pic.twitter.com/QrIBnrw9ro

— Kyle Feeley (@ScorpioKyle) December 31, 2018
* El campeón de la WWE, Daniel Bryan, retuvo sobre AJ Styles en un Steel Cage. Bryan esquivó el Styles Clash y dio un golpe bajo. Bryan ganó escapando de la jaula. Después del combate, Bryan hizo una promo sobre sacar a AJ para siempre y luego regresó a la jaula para atacar. AJ contrarrestó y terminó todo con un Styles Clash.
#WWETampa ended with @WWEDanielBryan promising to end @AJStylesOrg career.

AJ kicked him in the pee pee and hit a Styles Clash to send the fans home happy. pic.twitter.com/yqlc0zVGh6

— Kyle (@FLWrestlingFan) December 31, 2018
Resultados de los dos WWE Live Shows del 30 de diciembre (Buffalo, New York)
* Finn Balor derrotó a Drew McIntyre y Dolph Ziggler en una Triple Amenaza. McIntyre dominó la mayor parte del combate, pero Balor cubrió a Ziggler después de que el combate se terminó. Después del combate, McIntyre derribó a Balor con un Claymore Kick. McIntyre tomó el micrófono y habló de ser dueño de RAW. McIntyre fue a atacar a Ziggler, pero Ziggler respondió y golpeó un Zig Zag, lo que le permitió a Balor seguir con un Coup of Grace.
#WWEBuffalo
drew smark
finn waiting what comes next @FinnBalor pic.twitter.com/qv57pMrTK9

— cyrine yehia abukhader , selena yehia abukhader (@AbukhaderYehia) December 31, 2018
* Apollo Crews ganó un Battle Royal para ganar una futura oportunidad por el Título Intercontinental de la WWE. El combate se redujo a Crews y Jinder Mahal. Otras Superestrellas en el combate fueron Rhyno, Heath Slater, Mojo Rawley, Zack Ryder, Curt Hawkins, Kalisto, Lince Dorado, Gran Metalik, Konnor, Viktor, No Way Jose y Tyler Breeze
We love #WWEBuffalo thanks for the holiday cheer! pic.twitter.com/XyOpMVN8Td

— Rosie S (@Disneychicky) December 31, 2018
* Elías salió y cantó una canción con un gran pop, más grande que Balor tuvo en el primer partido. Fue interrumpido por Bobby Lashley y la ruidosa boca de Lio Rush.
* Bobby Lashley derrotó a Elias. Rush interfirió y Elias se volvió hacia un spear de Lashley para obtener el pin.
* Nia Jax derrotó a Ember Moon. Moon había terminado, pero este fue el combate más aburrido en la primera mitad, con diferencia. Jax ganó después de la interferencia de Tamina Snuka en el ringside
Dear @WWEEmberMoon
You still scare the hell out of me…#WWEBuffalo pic.twitter.com/u9YH1Zinj2

— Brandon Hova (@HOVAAA) December 31, 2018
* Bray Wyatt derrotó al barón Corbin en una combate No DQ. Wyatt recibió un pop babyface muy fuerte después de que Booed abucheara antes del partido. Kendo de palos y sillas de acero entraron en juego. Corbin intentó salir del combate, pero fue detenido por Rhyno, Slater, Crews, Jose y Breeze. Tiraron a Corbin de vuelta al ring y Wyatt golpeó con el Sister Abigail. La fuerte reacción de Wyatt continuó mientras posaba en las esquinas después del combate. Todos en el KeyBank Center estaban emocionados de ver a Wyatt
Daddy is back home….@WWEBrayWyatt #RUN#WWEBuffalo pic.twitter.com/PxNM9EEiem

— Brandon Hova (@HOVAAA) December 31, 2018
Descanso
* Los campeones Tag Team de RAW Bobby Roode y Chad Gable, se quedaron con The Authors of Pain y The Revival en una Triple Threat. Hubo un buen equipo de lucha libre por The Revival y algunos movimientos geniales de AOP.
* Natalya, Sasha Banks y Bayley derrotaron a The Riott Squad. Dana Brooke y Alicia Fox intentaron interferir desde el ringside, pero eso fue todo con este combate, lo que se sumó a la aburrida segunda parte.
Aww I love this picture! Their last match of 2018! ❤️ #WWEBuffalo pic.twitter.com/b9QkzDhJZa

— Summer (@xWWEAddict) December 31, 2018
* El Campeón Intercontinental de WWE Dean Ambrose retuvo a Seth Rollins en un combate de Steel Cage. Corbin interfirió y ayudó a Ambrose a ganar. Ambrose les habló a los Buffalo Bills para una gran reacción heel antes del combate. Hubo un poco de estancamiento en este combate con muchos golpes en la parte superior de la jaula, pero lo recogieron si empezaban a perder la multitud.
@WWERollins vs #DirtyDean in a #SteelCage @WWEBuffaloNY ! #wwebuffalo @WWE pic.twitter.com/GEmLt3IPtL

— Señor Magico (@Street_Tweets) December 31, 2018
A high five from his favorite wrestler! #WWEBuffalo pic.twitter.com/qDM15evbtG

— Tim Ellison (@ellisotm) December 31, 2018