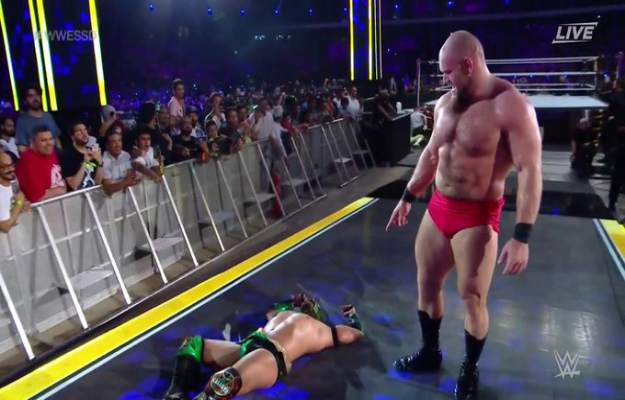 Lars Sullivan derrota a Lucha House Party por DQ en WWE Super Show Down | Seguimos con el gran show de WWE celebrado en Arabia Saudita donde en esta ocasión, Lars Sullivan sigue con su gran invicto al derrotar a Lucha House Party por DQ.
Planeta Wrestling, la web número uno de WWE en Español te trae la mejor cobertura de Super ShowDown 2019 en vivo y toda la información de última hora del gran show de Arabia Saudita.
Lars Sullivan derrota a Lucha House Party por DQ en WWE Super Show Down
Lars Sullivan ha salido victorioso en el combate hándicap contra Lucha House Party después de que el trío de luchadores se vieran con la misión imposible de derrotar a Lars y los tres optaron por golpear a la vez a Lars causando así la descalificación y por ende la victoria de Lars Sullivan.
#TheFreak vs. #TheLuchaHouseParty.@LarsSWWE battles @KalistoWWE, @LuchadorLD, AND @WWEGranMetalik at #WWESSD! pic.twitter.com/42mHJxy9Kx

— WWE (@WWE) June 7, 2019
¿Cómo obtuvo la victoria Lars Sullivan?
Suena la música de Lucha House Party y los enmascarados hacen su entrada al ring, mientras se muestra un video de lo que dijo Lars en SmackDown. La música de The Freak Lars Sullivan suena y hace su entrad al ring.
Lars domina la lucha durante la mayoria del encuentro, pero Lucha House Party al verse superado, atacan entre todos a The Freak, causando descalificación. Luego de esto atacaron a Lars hasta dejarlo listo para recibir un super codazo y plancha.
Al final de la lucha Lars furioso ataca a los tres fuera del ring, imapctandolos contra el suelo y la rampa. Sullivan finalmente los deja a los tres fuera de combate y se va por al rampa.
No te pierdas la cobertura de Super ShowDown en vivo