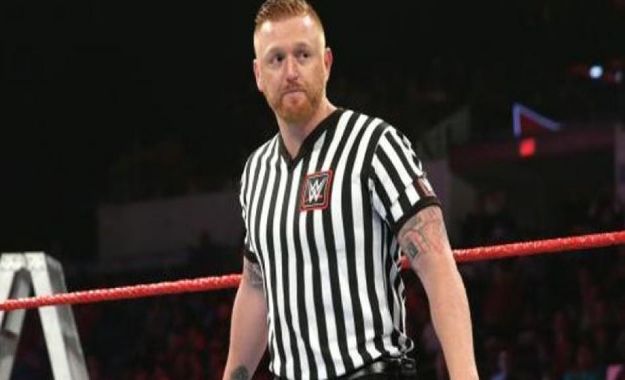 Como vimos esta semana, Heath Slater ha comenzado a trabajar de árbitro en RAW, pero esto no ha sido solo en televisión sino que también ha sucedido en los live shows de la marca roja.
Heath Slater haciendo de árbitro en los live shows de RAW
Heath Slater era parte de 3MB y antes de eso fue el One Man Band. También es el sobrino de JBL y tiene hijos, por lo que necesita este trabajo en la WWE y ha tenido uno durante más de doce años en esta etapa del juego. Ahora él es un árbitro.
Baron Corbin le dio a Slater una camisa de árbitro en RAW y le dijo que su trabajo ahora era oficiar después de que Rhyno fuera despedido de RAW. En ese sentido, tampoco parece que Rhyno haya terminado.
Las cosas podrían estar yendo a algún lugar en esta historia, ya que Slater parece ser un árbitro reacio a ejercer de heel como demostró el pasado lunes cuando se encaró con Baron Corbin en su combate contra Seth Rollins. Si WWE tiene un plan más grande para esta historia, esperemos que lo hagan algo bueno y lo dejen funcionar como se planeó.
Mientras tanto, Slater trabajó en el evento WWE Live en Nashville como árbitro.
He may not be happy about it but it's the holidays and he's got kids! @HeathSlaterOMRB is here to work #WWENashville! pic.twitter.com/iwjHl1wJgJ

— WWE (@WWE) 15 de diciembre de 2018
Faltará por ver si el trabajo de Heath Slater continúa mañana en el ppv WWE TLC ya que sería interesante que Slater fuera el árbitro del combate que debe enfrentar a Corbin contra Strowman para ver como sigue la historia, ya que parece que Heath Slater va a ser otro de los «amigos» que va a hacer el gerente general de la empresa.