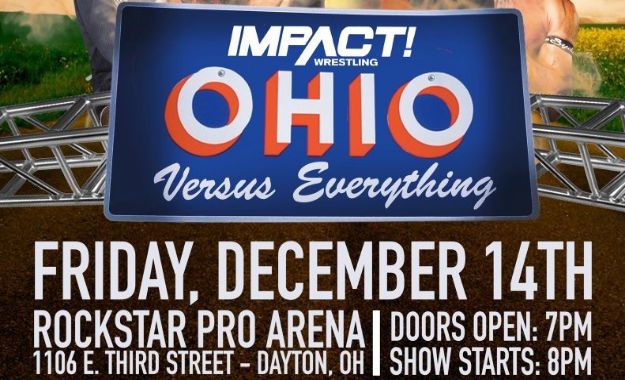 Ayer por la noche, Impact Wrestling y Rockstar Pro, hicieron un show conjunto emitido por Twitch en la ciudad de Dayton, Ohio, llamado «Ohio Versus Everything».
Resultados del evento de Impact Wrestling y Rockstar Pro «Ohio Versus Everything»
Como se informó anteriormente, Impact Wrestling celebró un especial de Twitch, Ohio vs. Everything, la noche anterior.
Entre los combates destacados está el main event donde los tres componentes de OvE se enfrentaron a los luchadores de la empresa Rockstar Pro, Alex Colon, Aaron Williams y Dustin Rayz. También destacar el combate de parejas femenino donde fue espectacular el movimiento final de Jessicka Havoc con un tombstone piledriver desde la segunda cuerda sobre Samantha Heights.
También pudimos ver a representantes de The Rascalz en el show con Zachary Wentz yendo en un combate individual contra Jeremiah y Trey Miguel ganó un scramble match de seis personas. El tercer miembro de The Rascalz, Dezmond Xavier, no estuvo presente en el show ya que se estuvo presentando en el evento de MLW de ayer viernes en Miami.
A continuación se muestran los resultados del show. Los fanáticos también pueden ver la repetición del evento en el reproductor integrado a continuación.
Zachary Wentz derrotó a Jeremiah
The Killer Death Machines (Jessicka Havok & Nevaeh) vencieron a Samantha Heights & Allie
Moose ganó a Mad Man Fulton
IMPACT Tag Title Triple Threat: LAX (Santana & Ortiz) retuvieron ante The Dirty (Brandon Edwards & Austin Mannix) & The Besties In The World (Davey Vega & Mat Fitchett)
Jon Murray derrotó a Stone Rockwell
Mosh Pit Scramble: Trey Miguel venció a Kevin Bennett, Clayon Gainz, Matt Sydal, Ace Austin & Ron Mathis
Eddie Edwards ganó a Larry D
oVe Rules: oVe (Sami Callihan, Dave Crist & Jake Crist) vencieron a The Night Ryderz (Aaron Williams, Dustin Rayz & Alex Colon)
Ver Ohio Versus Everything – IMPACT Wrestling and Rockstar Pro Presents desde IMPACTWrestling en www.twitch.tv