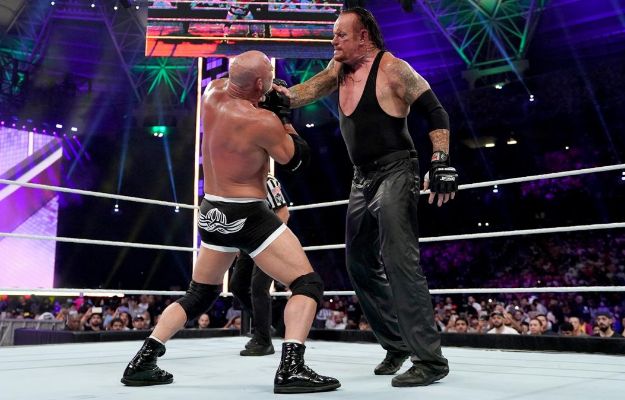 Enorme discusión entre Undertaker y Goldberg en backstage tras WWE Super ShowDown. Planeta Wrestling, la única web número uno sobre WWE en español, te cuenta los detalles de todo lo que pasó tras el escenario una vez terminó en main event del Super ShowDown en Arabia Saudí.
Enorme discusión entre Undertaker y Goldberg en backstage tras WWE Super ShowDown
Slice Wrestling confirma que The Undertaker y Goldberg tuvieron una discusión muy acalorada en backstage tras el show una vez este dejó de emitirse, y allí estuvieron gritándose fuertemente durante varios minutos.
Todo esto sucedió debido a que el Dead Man le estuvo reclamando a Goldberg por sus movimientos poco seguros durante el transcurso del combate, el trabajo que realizó durante el mismo, y el horrendo final que ambos dieron. Hasta donde llegan los informes, entre estas dos leyendas no hubo golpes ni enfrentamiento físico, pero la discusión que tuvieron si que fue muy acalorada, y varios directivos y responsables de la empresa tuvieron que intervenir para separarlos.
La cara de Undertaker lo decía todo…
Viendo la cara y la expresión de El Enterrador tras el combate, y que todos pudimos ver en directo durante la emisión en WWE Network, está claro que Taker no estuvo nada de acuerdo con todo lo que pasó y quedó muy decepcionado con lo sucedido. Por supuesto, la culpa de lo que pasó fue de ambos luchadores y no todo hay que atribuírselo a Goldberg, además, el hecho del enorme calor que hacía y el que se pusiera a sangrar tan pronto, pudo afectar al propio rendimiento físico del WWE Hall of Famer. Además, la edad de ambos, junto a la poca y continuada actividad física sobre el ring, tampoco perdona.
¿Y tú qué piensas de todo lo que ocurrió y de cómo ambas leyendas terminaron el main event del show?