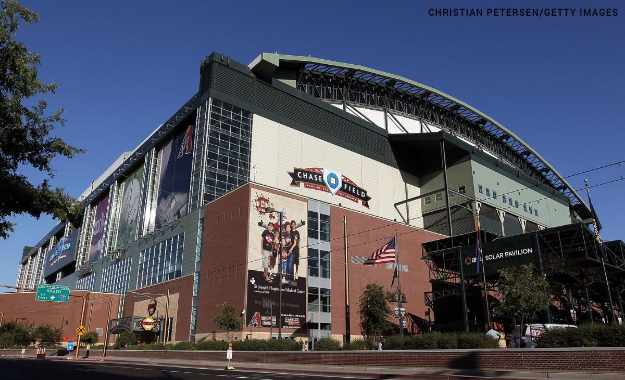 Planeta Wrestling, la web número uno sobre WWE en español, te cuenta que Daniel Bryan critica la hamburguesa conmemorativa para Royal Rumble de la que la propia WWE se ha hecho eco en su web oficial, y la lía en twitter.
Bryan critica la hamburguesa conmemorativa para Royal Rumble
Esta es la nota que sobre la hamburguesa especial se ha colgado en wwe.com
¿Está buscando una manera fácil de garantizar que nunca, nunca, será arrojado por encima de la cuerda superior – o, de hecho, será físicamente capaz de pararse – nunca más? Contempla la hamburguesa Royal Rumble, una súper comida asombrosa que Chase Field servirá este domingo durante el evento Royal Rumble. Esta pieza de magnificencia carnosa incluye una hamburguesa con queso, tocino, cheddar, cebollas fritas y una torre de gajos de quesos empanados para rematar todo. Es mucho.
Meet the Royal Rumble Burger.

We put an 18 oz. pork bratwurst patty on a toasted onion roll.

Then we added cheddar cheese, smoked bacon, crispy coleslaw, fried onions and BBQ aioli.

And then we topped it with fried mac and cheese wedges.

Available Sunday at @WWE #RoyalRumble. pic.twitter.com/rh2o78lNXi

— Chase Field (@ChaseField) January 23, 2019
El estadio, que es conocido por sus comidas escandalosas durante la temporada de béisbol, reveló la hamburguesa en Twitter la noche del miércoles ante numerosas reacciones generales de incredulidad y hambre  total y absoluto. (Seth Rollins ya está salivando).
This is what I'm here for. https://t.co/7wt7xlVNvM

— Seth Rollins (@WWERollins) January 24, 2019
Eche un vistazo a la hamburguesa que se encuentra arriba y si estás en el estadio el domingo, asegúrese de comer una, tal vez no cerca de Daniel Bryan.
Y aquí es dónde surge la controversia, porque Daniel Bryan ha ido a twitter,  y dentro de su actual condición de heel, pero también aprovechando su personal convicción sobre el veganismo, se ha puesto a criticar este tipo de comida rápida, y también a la empresa que la ha creado. Aquí está el tweet en cuestión:
Chase Field should be ashamed of themselves. Made from factory farmed pigs, an intelligent and extremely social mammal, and cheese from cows, who's baby's were ripped away from them. THEN add the heart disease delivered to the people who eat it. #SHAME #TheWorstGeneration https://t.co/6zlJ5zpyRN

— Daniel Bryan (@WWEDanielBryan) January 24, 2019
«Chase Field debería avergonzarse de sí mismos. Hecho de cerdos que viven encerrados en granjas, un mamífero inteligente y extremadamente social, y el queso de las vacas, cuyos bebés fueron arrancados de ellas. A continuación, añada la enfermedad cardíaca que pueden sufrir las personas que lo comen. #SHAME #TheWorstGeneration»
El tweet de Daniel Bryan ha generado mucha expectación y las respuestas entre unos y otro no se han hecho esperar…. veremos como sigue toda esta historia.
An excuse every tyrant in history has made. The reality is you just want to line your pockets. Prove me wrong by giving 100% of the profits from the Royal Rumble Burger to @PhxChildrens or similar charity. THAT is what people want #ChallengeCorporateElite https://t.co/DKezgUitpV

— Daniel Bryan (@WWEDanielBryan) January 24, 2019