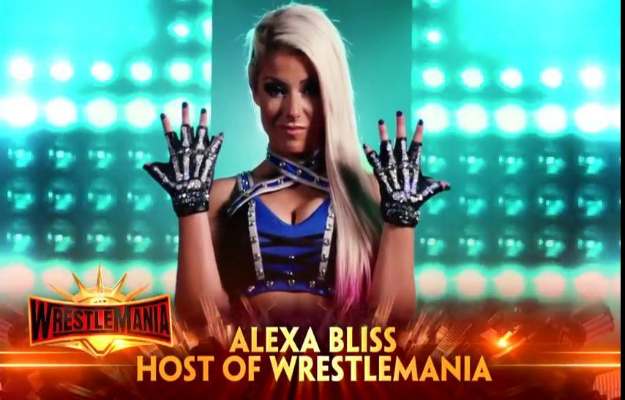 Alexa Bliss será la anfitriona de Wrestlemania 35
Durante el show de WWE RAW, Alexa Bliss realizó su popular segmento de "A moment of Bliss" donde iba a dar una importante noticia y era el anfitrión de Wrestlemania 35. Todos esperaban una leyenda o una gran celebridad pero la propia Alexa Bliss se anunció así misma como la anfitriona del magno evento de la WWE y anunció que sería mejor anfitriona que otras de otros años como lo han sido The Rock o The New Day.
IT'S HER!!! @AlexaBliss_WWE is hosting this year's #WrestleMania! 😈 #RAW pic.twitter.com/WtF30J6N8Y

— WWE (@WWE) March 12, 2019
A pesar de que Alexa Bliss ha afirmado que no está lesionada, parece que la WWE no quiere arriesgar mucho con ella y quieren que mantenga un rol secundario en el magno evento de la WWE para prevenir que Alexa Bliss pueda volver a sufrir algún tipo de lesión que pueda volver a alejarla de los cuadriláteros o le vuelva a causar una nueva conmoción como le pasó la última vez.
Será interesante como enfocará WWE el rol de Alexa Bliss en Wrestlemania y si la enfocan en algún combate o si en el mismo show la propia Alexa Bliss interviene en algún segmento o alguna participación en el mismo show.
¿Cómo se anunció en WWE RAW?
Alexa Bliss hace su entrada y presenta su segmento "A moment of Bliss". Alexa dice que va a anunciar el envitado especial para Wrestlemania de este año y es algo que todos se están preguntando. Alexa dice que han tenido a The Rock, The New Day pero la persona anfitriona de este año es… ¡ALEXA BLISS! Alexa dice que es ella y dice que es grandioso y está muy orgullosa y lo único que puede decir que es un honor ser la invitada por que finalmente Wrestlemania va a tener a la estrella más grande de todos los tiempos.