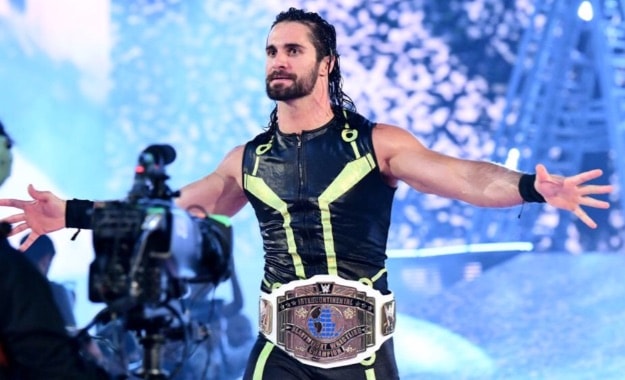 Planeta Wrestling, la web número uno sobre WWE en castellano, te está retransmitiendo en directo todo lo que está pasando en el WWE Greatest Royal Rumble desde Arabia Saudí. Con el campeonato Intercontinental de WWE en juego, se acaban de enfrentar Seth Rollins, Finn Balor, The Miz y Samoa Joe. En un combate que debería haberse llamado «One Ladder Match» ya que solo UNA escalera ha sido la protagonista, Seth Rollins sigue con el título Intercontinental después de un combate donde el campeón apenas ha tenido protagonismo alguno y le ha quitado la oportunidad a Finn Balor en el último segundo.
What a VICTORY for @WWERollins at @WWE Greatest Royal Rumble!#WWEGRR #AndStill pic.twitter.com/Yi0NZAqM3D

— WWE Universe (@WWEUniverse) April 27, 2018
🔥🔥🔥🔥🔥🔥🔥🔥🔥🔥🔥🔥🔥🔥🔥🔥🔥🔥🔥🔥🔥🔥🔥#WWEGRR @WWERollins pic.twitter.com/HLbszOqr79

— WWE (@WWE) April 27, 2018
RIGHT NOW on @WWENetwork: @SamoaJoe has one goal, and it's to win the #ICTitle in a #LadderMatch LIVE in Saudi, Arabia! #WWEGRR pic.twitter.com/Wd2Uccg56G

— WWE Network (@WWENetwork) April 27, 2018
Is @mikethemiz poised to become a…

9️⃣✖️
9️⃣✖️
9️⃣✖️
9️⃣✖️
9️⃣✖️
9️⃣✖️
9️⃣✖️
9️⃣✖️
9️⃣✖️#ICChampion at #WWEGRR? pic.twitter.com/c7ilS4WQeQ

— WWE (@WWE) April 27, 2018
#BalorClub…WELCOME to Jeddah, Saudi Arabia!#WWEGRR @FinnBalor pic.twitter.com/YG3RKmeMjm

— WWE Universe (@WWEUniverse) April 27, 2018
¿Cuál ha sido el camino hasta aquí de estas cuatro Superstars?
Cuatro superestrellas llevarán la competencia a nuevas alturas en el evento Greatest Royal Rumble de la WWE, donde el Campeonato Intercontinental se disputará en un ladder match de alto riesgo.
El Campeonato Intercontinental es uno de los premios más prestigiosos en el entretenimiento deportivo, ya que ha estado en manos de miembros del Salón de la Fama de WWE como Shawn Michaels, «Stone Cold» Steve Austin, «Macho Man» Randy Savage y Ricky «The Dragon Steamboat». Ante la rica herencia del título, Finn Bálor, Seth Rollins, The Miz y Samoa Joe no se detendrán ante nada para reclamar el campeonato cuando colgará del techo de Jeddah, en el estadio de la ciudad deportiva Rey Abdullah de Arabia Saudita.
La única forma de ganar esta pelea es subir una escalera y arrebatar el Campeonato Intercontinental del cielo. Sin embargo, con otras tres superestrellas con las que lidiar, es más fácil decirlo que hacerlo. Espere un montón de momentos de choque y victorias casi desgarradoras en este encuentro que doblega el acero y tal vez cambie su carrera.
Sigue con nosotros en Planeta Wrestling para enterarte de primera mano de todo lo que está pasando en el WWE Greatest Total Rumble que se está emitiendo en directo por WWE Network.