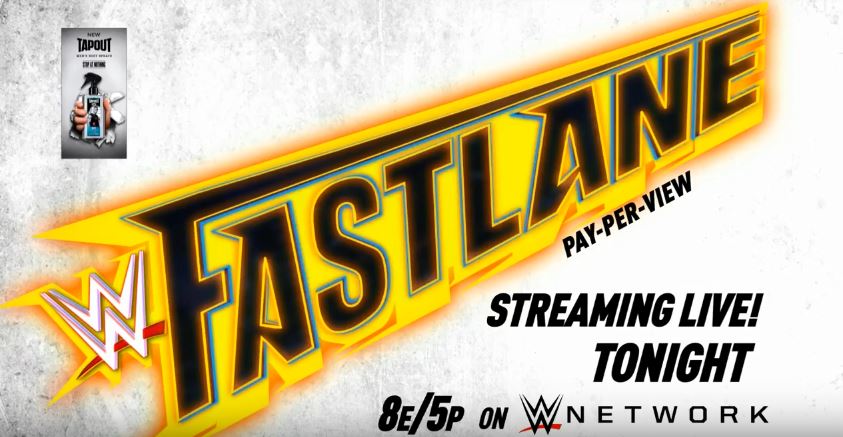 WWE presenta una nueva edición de Fastlane. Una hora antes del evento se transmitirá a a través de Youtube y de WWE Network el kick off. Evento exclusivo de SmackDown que se celebra desde la ciudad de Colombus, en el estado de Ohio. En un evento que contará con la presencia de Jonh Cena, Aj Styles, Baron Corbin, Charlotte o Sshinsuke Nakamura entre otras grandes estrellas.
Está es la cartelera que vas a poder ver está noche…
Campeonato Mundial de la WWE 
AJ Styles (c) vs John Cena vs. Kevin Owens vs. Sami Zayn vs. Dolph Ziggler vs. Baron Corbin
Campeonato femenino de SmackDown
Charlotte Flair (c) vs Ruby Riott
Campeonato de Estados Unidos
Bobby Roode (c) vs Randy Orton
Campeonatos por parejas de SmackDown
The Usos (c) vs The New Day
Shinsuke Nakamura vs Rusev
Naomi y Becky Lynch vs Natalya y Carmella
Tenemos un combate por equipos de 3 contra 3
Por un lado tenemos a Tye Dillinger junto a Breezango, por el otro a Ghad Gable y Shelton Benjamin junto a Mojo Rawley.
Un comienzo de combate muy absurdo, realmente humorístico. Donde Gable de rodillas y Fandango se sube a caballito y hace con que cabalga. Se pone seria la cosa, o esa parece, Gable domina a su rival. Relevo para Benjamin que sigue castigando a su rival (Breezango). Relevo para Gable, después de una maniobra doble, la cuenta tan solo llega a 2. Gable evita que su rival pueda dar el relevo, ya que le realiza un suplex. Relevo de Gable para Mojo. El cual sigue dominando sin mucho impedimento, aunque golpea fuera a Fandago y sigue sobre Breeze. Relevo para Gable y Tye el cual tiene para todos, y domina en el ring sobre Gable.
Gable intenta un Roll Up pero solo llega a 2. Tras mucho jaleo en el ring, que termina con Breezango y Gable y Benjamin fuera del ring, entra Tye le realiza su remate a Mojo, que no puede reaccionar y le da la victoria a su equipo.
Ganadores: Breezango y Tye Dillinger