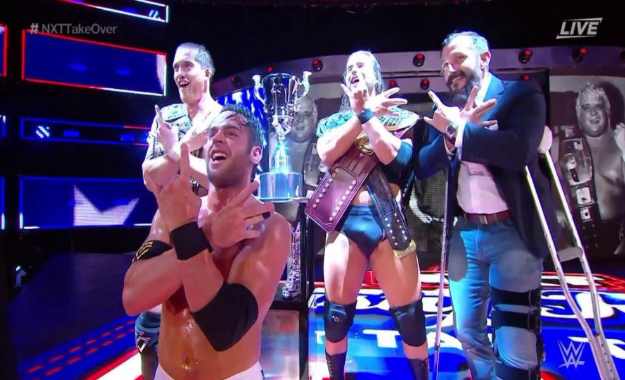 Os estamos contando en directo todo lo que está ocurriendo en WWE NXT Takeover: New Orleans por Planeta Wrestling, la web número uno sobre WWE en castellano y única web española acreditada oficialmente en Nueva Orleans. Acaba de terminar el combate por los NXT Tag Team Champions, una triple amenaza tremenda  entre The Undisputed Era (Kyle O'Reilly y Adam Cole) (c) vs. The Undisputed Era (Akam y Rezar) (con Paul Ellering) vs. Pete Dunne y Roderick Strong.
Finalmente, The Undisputed Era han retenido los campeonatos gracias a una traición de Roderick Strong a su compañero Pete Dunne. Roderick se ha unido al stable y todos ellos también resultan ganadores del torneo Dusty Rhodes.
Roderick Strong traiciona a Pete Dunne y da la victoria a The Undisputed Era el el Dusty Rhodes Classic. Strong se une asi a The Undisputed Era #NXTTakeOver #NXTTakeOverNewOrleans pic.twitter.com/pnmnX57RFT

— Planeta Wrestling (@Planeta_Wrest) April 8, 2018
Their faces say it all.@roderickstrong has just made THE decision! #UndisputedERA #NXTTakeOver pic.twitter.com/BwneHUYmjn

— WWE NXT (@WWENXT) April 8, 2018
WWE NXT ES LA MARCA DE DESARROLLO DE TALENTOS DE WWE.
Dirigida por Triple H y William Regal y con el WWE Performance Center como centro de entrenamiento, el futuro de la compañía está asegurado. La "tercera" marca de WWE se está consolidando en un proyecto fuerte con personalidad propia, que tiene su propio NXT Universe que siguen las transmisiones, los WWE NXT Live y por supuesto, sus propios PPV Especiales que se emiten en WWE Network. Los WWE NXT Takeover que gozan de una aceptación enorme debido a su calidad.
Esta semana, con motivo de la celebración de WrestleMania 34, se celebra el sábado 7 un nuevo especial WWE NXT Takeover: New Orleans donde veremos cómo termina y cómo empieza una nueva "temporada" para la marca.
Para este evento el título de los pesos pesados de la empresa de Andrade Cien Almas estará en juego contra Aleister Black, uno de los luchadores con más proyección de la empresa y además de los más queridos por el público.
El título femenino de Ember Moon ha Acaba de terminar la triple amenaza de WWE NXT Takeover: New Orleans y los NXT Tag Team Champions por la aspirante al cinturón ya que en abril volveremos a ver el combate que vimos en Royal Rumble con Shayna Baszler convirtiéndose en campeona.
Los títulos de parejas en NXT están en el aire, ya que William Regal hizo oficial anoche el combate triple amenaza entre The Undisputed Era contra Pete Dunne y Roderick Strong y Authors of Pain, donde estarán en juego no sólo los títulos sino que también estará el torneo Dusty Rhodes Tag Team Classic.
También ayer se anunció un nuevo combate para NXT Takeover New Orleans, que será un fatal six way ladder match por coronarse primer campeón del título North American de NXT. EC3, Ricochet, Adam Cole, Killian Dain, Lars Sullivan y Velveteen Dream son los seis aspirantes.
Por último parece claro que la rivalidad entre Tommaso Ciampa y Johnny Gargano tiene que tener un final y este parece ser que se llevará a cabo en NXT Takeover en un combate entre ambos.