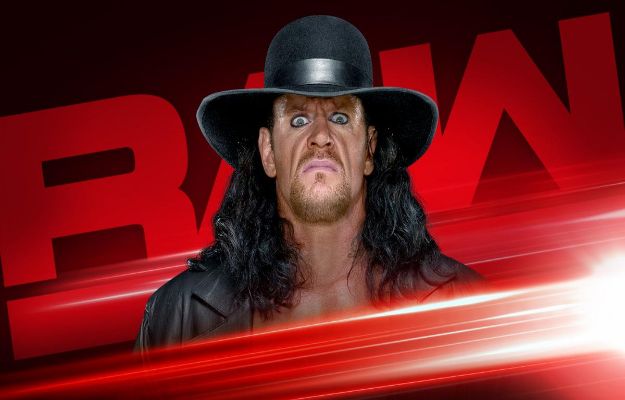 The Undertaker regresa a WWE RAW el lunes que viene. Esta noche durante la emisión de WWE SmackDown Live se ha anunciado el regreso del Deadman.
The Undertaker regresa a WWE RAW el lunes que viene
WWE ha anunciado que The Undertaker regresará el próximo lunes en RAW desde el Frank Erwin Center en Austin, Texas.
Este será el último programa de RAW antes de WWE Super ShowDown en Arabia Saudí, donde Taker se enfrentará por primera vez al miembro del Salón de la Fama de la WWE, Bill Goldberg. Aún no se sabe si Goldberg estará en RAW para ayudar a promover el combate, pero sería algo lógico y sería el regreso de Goldberg a un show de RAW desde después de Wrestlemania 33.
Este es el anuncio en twitter que ha hecho la empresa sobre el regreso de The Undertaker.
The Phenom will return to #Raw NEXT WEEK. #SDLive #undertaker pic.twitter.com/rvVGiPoaXy

— WWE Network (@WWENetwork) 29 de mayo de 2019
La última vez que The Undertaker apareció en RAW fue la noche después de WrestleMania 35 y le aplicó a Elias un Tombstone Piledriver. Super ShowDown será el primer combate de The Undertaker desde Crown Jewel, donde él y Kane cayeron derrotados ante Triple H y Shawn Michaels en Arabia Saudí.
Cabe mencionar que Triple H también estará en acción en Super ShowDown y lo hará contra Randy Orton.
Faltará por ver que ocurre la semana que viene en WWE RAW y lo más importante faltará ver a que nivel están ambos competidores para dar un combate decente, ya no decimos bueno, el próximo viernes 7 de junio en el especial de WWE Super ShowDown.
Recordemos que la última vez que vimos a The Undertaker en un combate le costaba bastante moverse y es que los años no pasan en balde para nadie.