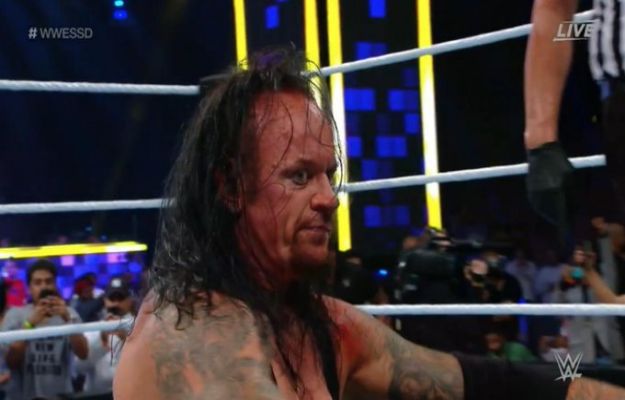 The Undertaker derrotó a Goldberg en Super Show Down |Seguimos con novedades desde el show de WWE en Arabia Saudita desde el main event del show, donde The Undertaker ha derrotado a Goldberg en un combate en el que ambos han sacado todo su arsenal de movimientos pero finalmente, tras un chokeslam de The Undertaker sobre Goldberg obtuvo la victoria.
Planeta Wrestling, la web número uno de WWE en Español te trae la mejor cobertura de Super ShowDown 2019 en vivo y toda la información de última hora del gran show de Arabia Saudita.
The Undertaker derrotó a Goldberg en Super Show Down
Lo que fue el primer combate entre Godberg contra The Undertaker en el Super Show Down de Arabia Saudita ha sido un combate donde ambos se golpearon con todo su potencial, ambos se aplicaron sus movimientos más duros como el spear de Goldgberg o el chokeslam de The Undertaker.
The #Undertaker prevails.@Goldberg was NEXT! #WWESSD pic.twitter.com/74Iwmwm9BA

— WWE (@WWE) June 7, 2019
Finalmente, The Undertaker al aplicar un chokeslam a Goldberg, que incluso llegó a sangrar durante el combate, obtuvo la victoria en el primer enfrentamiento entre ambos.
¿Cómo obtuvo la victoria The Undertaker?
La lucha inicia y Goldberg se burla de Taker haciendo la señal clasica de Taker, el hombre muerto lo ataca y Goldberg responde con 2 spears, cubre a Taker y la cuenta llega a 2. El Icono de WCW mantiene el control de la lucha.
Undertaker lo impacta contra el poste y comienza a sangra mucho de la cabeza, luego escuela clásica de Taker y se prepara para el Chock Slam y lo conecta. Es momento del Tombstone PileDriver y lo conecta, lo cubre y la cuenta del arbitro solo llega a 2.
Goldberg es impactado en la esquina del ring y esta a punto de recibir Big Boot, pero aplica Spear y luego HammerLock y lo cubre llegando la cuenta a dos.
Finalmente Taker lo derriba de nuevo y aplica Chock Slam para llevarse la victoria. y Finalizar el evento.
No te pierdas la cobertura de Super ShowDown en vivo