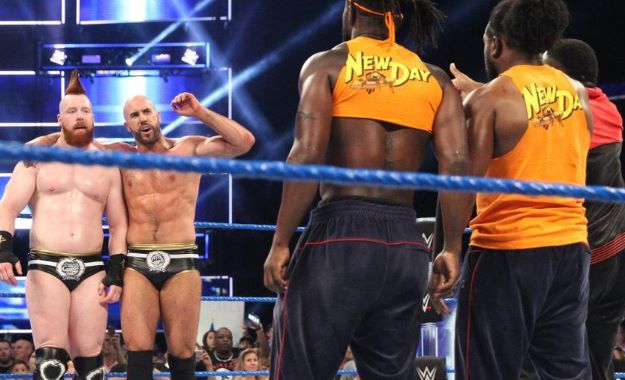 The bar se enfrentará a New Day para determinar a los rivales de los Bludgeons Brothers en Summerslam
The bar se enfrentará a New Day para determinar a los rivales de los Bludgeons Brothers en Summerslam | En el show de Smackdown Live, The Bar derrotaron a The Usos para así avanzar a la final del torneo que creó la manager general de Smackdown Live, Paige, para determinar los rivales de los Smackdown Tag Team Champions The Bludgeons Brothers en WWE Summerslam. Planeta Wrestling te lo cuenta todo.
The New Day se enfrentarán a The Bar la semana que viene en la final del torneo después de derrotar a SAnitY en la semifinal.
¿Cómo obtuvieron The Bar la victoria?
The Usos hacen su entrada. Turno de The Bar. The New Day se unen a la mesa de comentaristas. El combate es para conocer los siguientes finalistas del torneo por los #1 contender a los Smackdown tag team championship.
Sheamus y Jay se golpean con todo hasta que Jay aplica una dropkick y Sheamus sale del ring. Tras comerciales, Cesaro golpea con todo a Jimmy y le aplica un candado. Jimmy quiere dar el relevo a Jay pero Sheamus entra y le golpea junto a Cesaro para aplicarle una punt kick y el conteo que llega a 2. Candado de Sheamus sobre Jimmy hasta que invierte y da el relevo a Jay a la vez que Sheamus a Cesaro. Samoan Drop de Jay a Cesaro y el conteo que queda en 2. Drop kick de Jay a Cesaro pero este sale del ring y Jay se lanza desde la tercera cuerda pero Sheamus aparta a Cesaro. Superkick a Jay a Cesaro y Jimmy le aplica el frog splash del esquinero seguido del conteo de Jay que Cesaro resiste. Jay sube al esquinero donde Cesaro lo lanza y Jay contra la barricada. Tras comerciales, Sheamus y Cesaron atacan a Jay en el esquinero y Jimmy saca del ring a Sheamus para que Jay se lance sobre Cesaro. Jay y Cesaro se golpean con todo y Cesaro intenta un uppercut que Jimmy aplica una superkick seguido de una superkick a Sheamus ¡y Jay aplica el frog splash! seguido del conteo que salva Cesaro. Jay lanza a Cesaro fuera del ring y Los Usos van a los esquieneros. Jay salta ¡pero Cesaro le aplica un uppercut en el aire! y Sheamus aplica un rollup a Jimmy para ganar el combate. The Bar derrotaron a The Usos y avanazan a la final del torneo para determinar los aspirantes de los Smackdown Tag team Championship.
The BAR = IN TACT@WWESheamus & @WWECesaro advance in the #SDLive #TagTeamTournament! pic.twitter.com/YTSQ5mtzu0

— WWE (@WWE) August 1, 2018