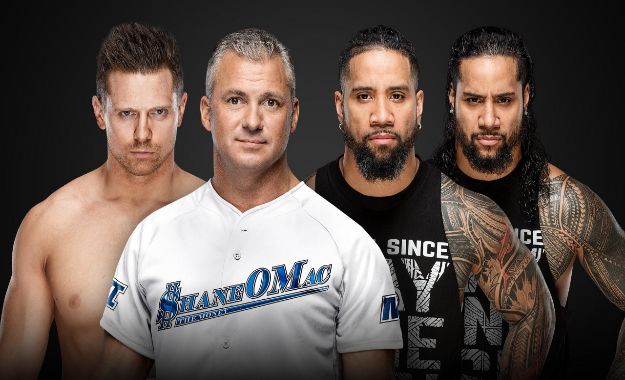 Los actuales campeones de parejas de WWE SmackDown Live, Shane McMahon & The Miz se enfrentarán a The Usos en Elimination Chamber.
Shane McMahon & The Miz vs The Usos en Elimination Chamber
En el programa de WWE SmackDown Live de esta noche se ha llevado a cabo un combate Four Corners Elimnation Match donde The Usos han ganado y han conseguido la opción de luchar por los títulos de parejas de Smackdown de Shane McMahon y The Miz, el próximo 17 de febrero en Elimination Chamber.
Nota de prensa oficial de WWE
Contra todas las probabilidades y tal vez algunos mejores juicios iniciales, The Miz & Shane McMahon se abrieron camino hasta la parte superior de la división Tag Team de SmackDown al destronar The Bar en el Royal Rumble, validando las afirmaciones de The A-Lister de que eran "el mejor Tag Team de El mundo ". Desafortunadamente, están a punto de enfrentarse a un tándem que hace tiempo apostó por ese apodo, sin las comillas.
The Usos, el Tag Team con más experiencia de SmackDown y posiblemente el más dominante, desafiarán a los "Co-Besties" por los títulos de parejas azules en la Elimination Chamber de WWE, habiendo ganado el honor en un Four Corners Elimnation Match que enfrentó a Jimmy y Jey contra The Bar, The New Day y Heavy Machinery. En un giro irónico y potencialmente desastroso, fue Shane-O-Mac quien sugirió esa idea en primer lugar, lo que tiene sentido desde cierta perspectiva: fue el Comisionado de SmackDown durante dos años, y trabajó arduamente para convertir al Equipo Azul en La tierra de la oportunidad.
Con el orgullo y la alegría de Shane y Miz en juego contra un peligroso tándem, puede que se arrepienta de haber dado el visto bueno a los dos hermanos que pueden convertir su sueño en un despertar muy, muy amargo.