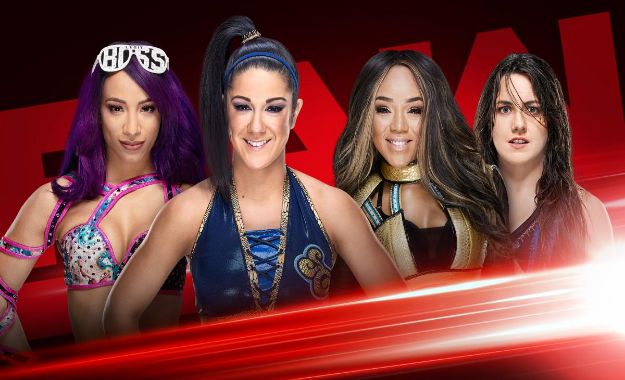 Ayer WWE confirmó mediante su página web que el próximo lunes en RAW, Sasha Banks y Bayley se enfrentarán a Nikki Cross y Alicia Fox
Tercer combate de clasificación para Elimination Chamber
Esta es la nota oficial de WWE con el anuncio del combate del próximo lunes, que será el tercer combate de clasificación de la marca roja para la Elimination Chamber donde se coronará a las primeras campeonas de parejas de la empresa.
Curiosamente en el anuncio se dice que las clasificadas para el combate por parte de WWE Smackdown son The IIconics, en lugar de Mandy Rose y Sonya Deville, con lo que no sabemos si es un error de WWE o nos acaban de dar un spoiler.
Seguramente WWE nos informará de la entrada de The IIconics el próximo martes en el programa de WWE Smackdown Live y sólo nos quedará saber un equipo de la marca azul para tener los seis equipos que participarán en la Elimination Chamber.
OFICIAL: @SashaBanksWWE y @itsBayleyWWE vs. @NikkiCrossWWE y @AliciaFoxy en #RAW. Te contamos todos los detalles #WWE https://t.co/nGHH9Bp2qa pic.twitter.com/ou3sRk9scg

— Planeta Wrestling (@Planeta_Wrest) 1 de febrero de 2019
Nota Oficial del anuncio del combate del lunes en RAW
The Boss 'N' Hug Connection siempre soñaron con convertirse en campeones de parejas en WWE, y su viaje hacia esa meta comienza oficialmente en Raw cuando se enfrentan a la impredecible alianza de Alicia Fox y Nikki Cross en un combate de clasificación por los WWE Women's TagTeam Championship cuya final se disputará en Elimination Chamber .
El dúo ganador de este combate se unirá a los equipos de Raw de Nia Jax y Tamina y Liv Morgan & Sarah Logan y IIconics de SmackDown LIVE, junto con otros dos equipos de la marca azul aún por determinar, dentro de la formidable estructura de la Cámara de Eliminación en un enfrentamiento para determinar las primeras campeonas por parejas de la empresa dentro del PPV, Elimination Chamber.
Planeta Wrestling te mantendrá actualizado con todo lo que ocurra en el Road to Wrestlemania, con este evento Elimination Chamber y Fastlane antes de llegar al evento más grande del año.