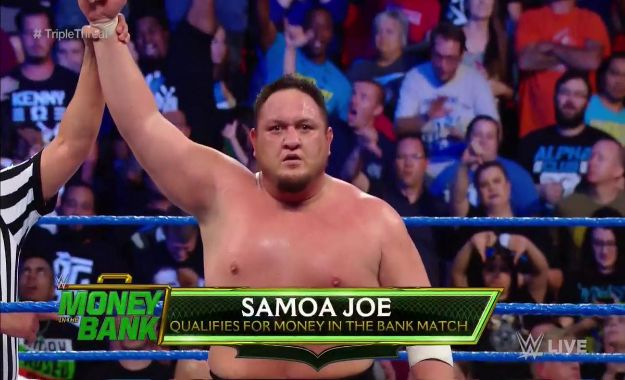 Samoa Joe se convirtió anoche en el úlitmo participante del combate masculino del Money in the Bank que se celebrará el 17 de junio en Chicago, tras derrotar en una triple amenaza a Big Cass y Daniel Bryan en el main event de WWE Smackdown de ayer.
Samoa Joe, último participante del Money in the Bank masculino
Mientras WWE cambió el combate de Daniel Bryan vs Samoa Joe anunciado esta semana, Joe se convirtió en la persona final para calificar para Money in the Bank.
Bryan quedó inconsciente tras el Coquina Clutch en el evento principal de esta noche, que se convirtió en un combate triple amenaza cuando se le agregó Big Cass. Bryan golpeó con una running knee a Cass y estaba buscando el pin cuando Joe lo estranguló. Después del combate, Cass golpeó a Bryan con una big boot.
Cass interrumpió a Joe y Bryan al comienzo de SmackDown, dijo que su combate no sucedería, y los atacó usando su muleta, arrojando a Bryan contra una escalera y golpeándolos con el maletín de Money in the Bank. El evento principal con una triple amenaza se hizo oficial poco después.
Joe vs. Cass en un combate clasificatorio fue anunciado originalmente para la semana pasada hasta que WWE sacó a Cass debido a lo que dijeron que era una lesión. Cass regresó a la acción el lunes por la noche en el live show de Smackdown.
Braun Strowman, Finn Balor, The Miz, Rusev, Bobby Roode, Kevin Owens, un miembro de The New Day y Joe serán los ocho luchadores en el combate de escaleras masculino Money in the Bank. Ember Moon, Charlotte Flair, Alexa Bliss, Becky Lynch, Natalya, Lana, Naomi y Sasha Banks están preparadas para el combate de la escalera femenina.
Quedan dos semanas de televisión antes de que Money in the Bank tenga lugar el 17 de junio.