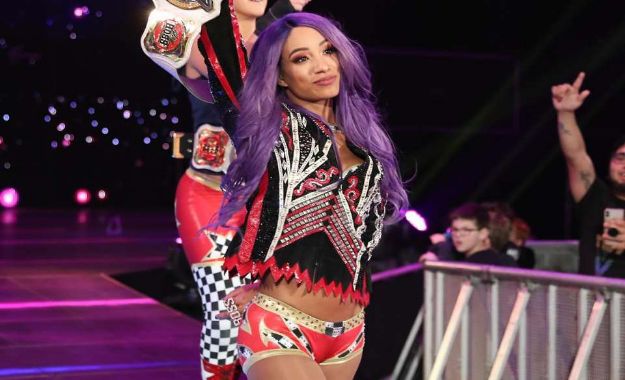 ¿Cuales eran los planes para Sasha Banks en Money in the Bank? Os contamos lo que tenía pensado WWE para Sasha Banks en el próximo PPV de la empresa.
¿Cuales eran los planes para Sasha Banks en Money in the Bank?
Sasha Banks y Bayley perdieron los títulos de parejas femeninos manera sorprendente ante The Iconics en WrestleMania 35 y, según se informa, también estuvieron involucradas en un incidente en el backstage anteriormente ese día. Desafortunadamente para The WWE Universe, Sasha Banks no se ha visto en la televisión de WWE desde entonces y la compañía aparentemente está teniendo problemas para recuperarla.
Curiosamente, algunos informes afirman que Banks y Bayley fueron informadas en WrestleMania 35 de que se dividirían en el Superstar Shake Up, lo que podría ser parte de la razón por la que Banks quiere abandonar la empresa. Dicho esto, WWE se negó a aceptar la renuncia de Banks y la envió a casa dándole tiempo libre para que pensara.
La idea original era que WWE tenía planes de traer de vuelta a Sasha Banks como parte de la lucha femenina de Money in the Bank, pero al final eso no llegó a buen término. Sin embargo, la gran sorpresa es a quien WWE consideraba su reemplazo para el combate, que se suponía que debía ganar.
De acuerdo con la última edición del The Wrestling Observer Newsletter, «se informó que Banks estaba originalmente destinada a estar en el lado de RAW del Money in the Bank ladder match femenino El lugar que estaba» destinado «para Banks finalmente fue otorgado a Dana Brooke . «
Money in the Bank se celebrará dentro de dos semanas. Si Banks estará en el show de alguna manera está por verse. Dependerá de si WWE puede convencerla de quedarse, pero por ahora, parece que Brooke tiene su lugar.
Con eso dicho y algunos rumores que especulan que se suponía que Banks iba a ganar, ahora hay que preguntarse si esa victoria será para Dana Brooke.