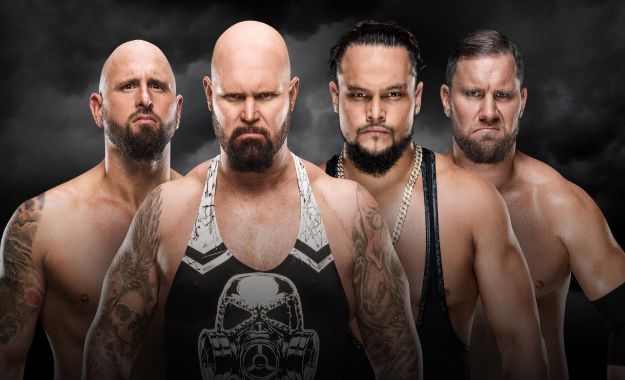 WWE ha anunciado esta tarde que Luke Gallows y Karl Anderson se enfrentarán a los componentes de The Miztourage, Bo Dallas y Curtis Axel el próximo domingo 25 de febrero en el Kick Off de Elimination Chamber.
Combate anunciado para el Kick Off de Elimination Chamber
Luke Gallows y Karl Anderson nunca han llamado nerd a alguien y no han querido golpearlos, pero los ex campeones de Tag Team de RAW tendrán esta oportunidad cuando se enfrenten a los dos luchadores más entrometidos en el roster de Raw – The Miztourage – en el Kick Off de Elimination Chamber.
Los buenos hermanos residentes del Club Bálor han estado enredados con The Revival durante varias semanas, intercambiando triunfos con los dos veces campeones del NXT Tag Team. El Miztourage, mientras tanto, ha estado cumpliendo con sus tareas principales como red de seguridad para The Miz, salvando al Campeón Intercontinental de encerronas y recibiendo ocasionalmente golpes en su lugar. En Elimination Chamber Kickoff, sin embargo, Gallows & Anderson tienen la oportunidad de abrir un nuevo capítulo, mientras que Bo Dallas & Curtis Axel tendrá que pasar de los ayudantes a los protagonistas para sobrevivir.
¿Las brillantes luces de la lista A cegarán a los buenos hermanos en la derrota? ¿O The Miztourage se encontrará con el Magic Killer como muchos nerds antes que ellos?
Cartelera actualizada de WWE Elimination Chamber
Tras la confirmación de este combate para el Kick Off de Elimination Chamber, la cartelera para el evento ahora mismo queda de la siguiente manera:
Elimination Chamber para decidir el WWE Universal Title #1 Contender
John Cena vs. Elias vs. Braun Strowman vs. Roman Reigns vs. WWE Intercontinental Champion The Miz vs. Seth Rollins vs. Finn Balor
The Miz entra el nº #1, Elias entra el nº #6. El ganador se enfrentará al WWE Universal Champion Brock Lesnar en WWE WrestleMania 34.
First-Ever Women's Elimination Chamber por el título femenino de RAW
Bayley vs. Mandy Rose vs. Mickie James vs. Sonya Deville vs. Sasha Banks vs. Champion Alexa Bliss
La ganadora luchará contra Asuka o habrá un Asuka & Nia Jax en WWE WrestleMania 34.
RAW Tag Team Title Match
Titus O'Neil and Apollo vs. Cesaro and Sheamus
Asuka vs. Nia Jax
Si Nia Jax gana, ella se añadirá al title match en WWE WrestleMania 34 para hacer una Triple Threat con Asuka y la campeona.
Matt Hardy vs. Bray Wyatt
Ronda Rousey firmará su contrato con WWE en el ring de Elimination Chamber
Kick Off Match: Luke Gallows & Karl Anderson vs Bo Dallas & Curtis Axel.