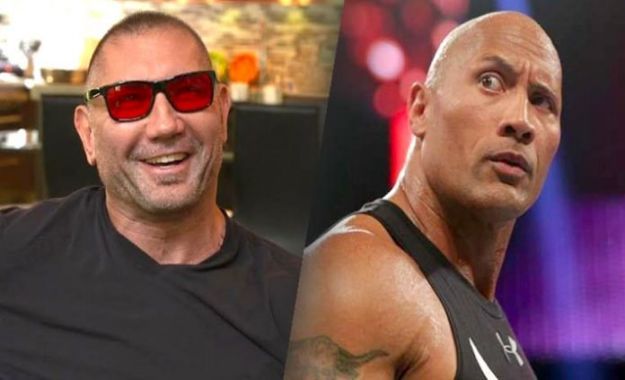 Batista lanza una pulla a The Rock
Batista ha tenido una buena carrera en el cine tras su salida de WWE, pero no puede comprarse a todo lo que Dwayne Johnson «The Rock» ha hecho por Hollywood. Esta semana The Animal Batista ha sido entrevistado por el diario Tampa Bay Times y lo que ha dicho sobre The Rock no ha sido precisamente bueno.
Batista considera que The Rock no es un gran actor
Durante la entrevista se le preguntó a Batista si quería ser un gran actor como The Rock, a lo que el luchador respondió que no consideraba que Dwayne sea un gran actor.
«The Rock era en cierto modo una estrella de cine aun antes de ser una estrella de cine. Hay algo especial en él, pero yo no lo considero realmente un gran actor. Definitivamente no es un gran actor.»
Batista además pidió buenos papeles en los que pudiera lucirse como intérprete sin importarle la popularidad o el tamaño de la producción:
«Lo que menos me importa es si trabajo en Fast and Furious o Bumblebee. No busco ese tipo de fama, ese no es el estrellato que quiero. Lo que quiero son buenos papeles en los que pueda realizar una buena interpretación. Quiero trabajar con actores como Sam Mendes y Jodie Foster, actores que tienen premios de la academia y que se han ganado el respeto y la admiración de los seguidores del cine.»
Batista no se arrepiente de sus palabras
Batista no solo no se arrepiente de lo que dijo sobre The Rock, si no que además hizo retweet a un enlace a su entrevista. A pesar de esto quiso aclarar que sus palabras no quisieron atacar a The Rock, si no que él siempre dice lo que piensa y a veces sus palabras pueden parecer duras.
De todas formas Batista debe olvidarse unos meses del mundo del cine y centrarse en su nueva etapa en WWE, empresa a la cual regresó este lunes atacando a Ric Flair en RAW.