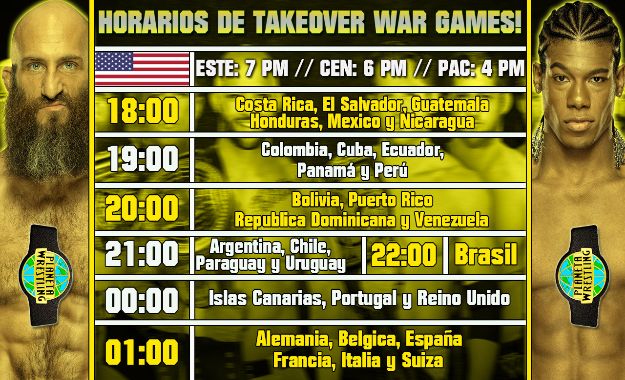 ¿Cómo ver NXT Takeover War Games?
Este 17 de Noviembre WWE presenta una nueva edición de NXT Takeover. Se trata de NXT TakeOver War Games, un evento que rememora la mítica jaula de dos ring de la World Championship Wrestling.
The Velveteen tiene la oportunidad de su vida al enfrentarse al mejor heel de WWE, Tomasso Ciampa con el campeonato de NXT en juego. Además, The Undisputed Era entrarán dentro de la jaula para enfrentarse a Pete Dunne, Ricochet y The War Raiders.
¿Cómo ver NXT TakeOver: Brooklyn 4 en vivo y gratis?
WWE Network ofrece una oferta con la cual podemos ver NXT TakeOver War Games II en vivo, en español, en HD y de forma completamente gratuita. Con la promoción que WWE Network tiene activa en estos momentos podemos disfrutar de un mes gratis del mejor contenido on demand incluyendo NXT TakeOver War Games II, WWE Survivor Series 2018 y miles de horas de contenido on demand.
Horarios de NXT TakeOver: Brooklyn 4 en España
En España el show se emitirá desde la una de la madrugada, una hora antes en las Islas Canarias.
En Latinoamérica los horarios serán los siguientes:
18:00 – México
19:00 – Colombia, Ecuador, Panamá y Perú
20:00 –Paraguay, Venezuela y Bolivia
21:00 – Argentina y Chile
El kick off comenzará una hora antes del evento y podrá seguirse en vivo a través del canal oficial de WWE en Youtube.
No te pierdas la mejor cobertura en vivo en Planeta Wrestling, la web número uno de WWE en Español. Además, estaremos realizando la narración en vivo a través de nuestro canal de Youtube.