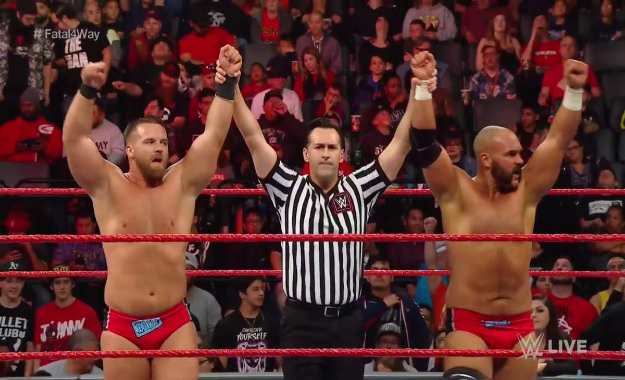 The Revival son aspirantes a los campeonatos por parejas de WWE RAW
Durante el show de WWE RAW, Shane McMahon tomó una nueva decisión al tener de nuevo el control en RAW y Smackdown Live y tras la petición de Drake Maverick de que Authrs of Pain tuvieran una nueva oportunidad por los campeonatos por parejas de RAW, Shane dijo que la tendrían si ganaban una fatal 4-way esta noche.
El combate enfrentaba a The Revival, The Lucha House Party, B-Team y Authors of Pain y tras un buen combate, The Revival obtuvieron la victoria después de aplicar a Bo Dallas su remate final tag team. Por ende, The Revival tienen una oportunidad para retar a Bobby Roode y Chad Gable por los campeonatos por parejas de RAW.
It's just pure CHAOS in the ring during this #Fatal4Way Match. #RAW pic.twitter.com/3gByeIGT1z

— WWE (@WWE) December 18, 2018
¿Cómo obtuvieron su victoria The Revival?
Lince Dorado y Curtis Axel son los primeros, Lince ataca primero con patada al rostro y luego entra a Kalisto que ataca con una doble patada que saca a a Curtis del ring. Curtis le da el tag a Dawson quien le da bofetadas a Kalisto y golpes de antebrazo, secuencia de suplex y luego codazo,entra Wilder y Kalisto aplica un Doble ddt a ambos The Revival y luego plancha cruzada de Kalisto. Entra AoP para atacar a Lince Dorado. Curtis Axel recibe un Stunner de parte de Lince Dorado. Entran Kalisto y Bo Dallas. Plancha de Kalisto sobre Bo Dallas y luego patadas al pecho y al muslo. Bo lanza a Kalisto sobre la esquina y Dawson se roba el tag. Bo domina hasta aplicar una desnuncadora giratoria a Dawson y busca el pin que Wilder salva. Sucesivos small packages entre Bo Dallas y Dawson. Wilder entra de manera legal y The Revival aplican la Shatter Machine. 1…2…3 Ganadores y aspirantes a los Tag Team Championship The Revival