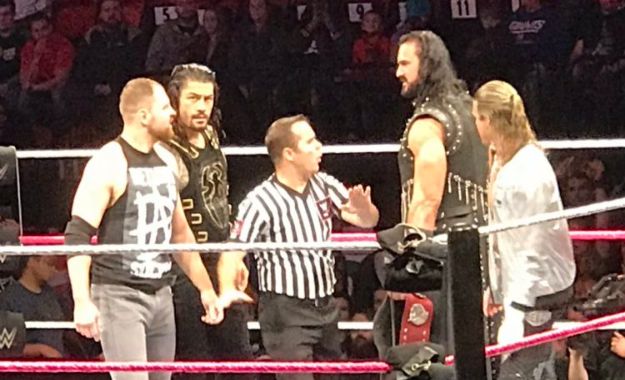 Estos son los resultados del live show de WWE RAW celebrado en la ciudad de Binghamton en New York este sábado 13 de octubre en el segundo show de la marca roja del fin de semana.
Dolph Ziggler hace equipo con Drew McIntyre en el main event de WWE RAW en Binghamton
Ayer se celebró el segundo show del fin de semana de la marca roja de RAW y lo hizo con el regreso de Dolph Ziggler quién no estuvo presente en el live show del viernes.
Ziggler vino para hacer equipo con Drew McIntyre y los dos se enfrentaron a los componentes de The Shield, Dean Ambrose y Seth Rollins en el main event del evento.
Como paso el viernes el tercer componente de The Shield, Seth Rollins, no estuvo presente en el evento, así como tampoco lo estuvo Braun Strowman que parece que anda lesionado.
Con los campeones de parejas en el main event sin poner el título en juego, con Roman Reigns sin defender el título Universal y con Seth Rollins en casa, solo nos quedaba el titulo femenino, pero este tampoco se defendió ya que Ronda Rousey tampoco estuvo presente en el evento.
En su lugar tuvimos dos combates de la división femenina, en el primero de ellos, Natalya se enfrentó a Alicia Fox en un combate individual mientras que en el segundo, Dana Brooke, Nia Jax y Ember Moon lucharon contra The Riott Squad.
Resultados del live show de WWE RAW en Binghamton del 13 de octubre
Men's Tag Team Match: The B Team derrotaron a The Ascension.
Single Match: Apollo Crews venció a Mojo Rawley.
Men's Tag Team Match: The Authors of Pain (con Maverick) ganaron a Heath Slater & Rhyno.
Women's Single Match: Natalya derrotó a Alicia Fox.
Six Men's Tag Match: Tyler Breeze, Titus O'Neill & No Way Jose vencieron a Mike Kanellis & The Revival.
1st Match: Finn Balor ganó a Elias, tras el combate Lashley salió y reto a Balor a un combate
2nd Match: Finn Balor derrotó a Boby Lashley por DQ.
Six Women's Tag Match: Nia Jax, Ember Moon & Dana Brooke vencieron a Riott Squad.
Men's Tag Team Match: Jinder Mahal & Baron Corbin ganaron a Bobby Roode & Chad Gable.
Main Event Tag Team Match: Universal Champion Roman Reigns & Dean Ambrose derrotaron a los Raw Tag Team Champion Drew McIntyre & Dolph Ziggler.