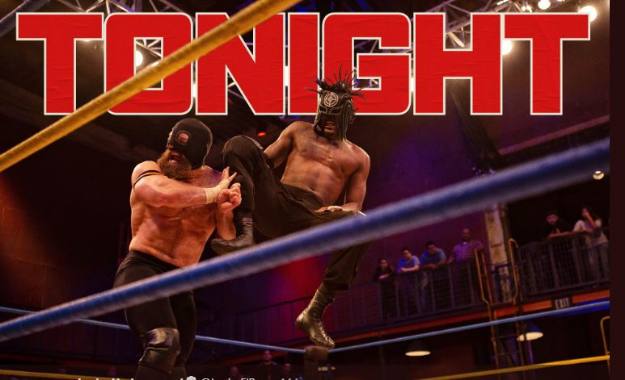 Lucha Underground 3 de Octubre 2018
Lucha Underground presentó un nuevo programa semanal a través de El Rey Network. El show comenzó con Aerostar mirando el horizonte. Mientras amanece Melissa Santos llega para preguntarle que tal está y este le dice que cuando lo poseyó el espíritu de Catrina contrajo una enfermedad. Aerostar dice que vio el futuro y que es el fin para él.
La banda toca la música para presentar el show en el templo y el equipo de comentaristas nos da la bienvenida a una nueva edición de Lucha Underground.
The Rabbit Tribe derrotaron a Joey Ryan, Ivelisse y XO Lishus en lo que fue el debut en el ring de The White Rabbit. El conejo lució como un personaje muy fuerte, aguantando los golpes de sus rivales y apareciendo en principio solo, aunque luego Paul London y El Bunny aparecieron para igualar las cosas, atacando por sorpresa.
Double suplex? Back-to-back suplex? Rabbit stew-plex? You tell us, Believers. #LuchaUnderground @LondonFu @RealIvelisse pic.twitter.com/ruGxB7Fl7c

— Lucha Underground (@LuchaElRey) October 4, 2018
Matt Striker anuncia los combates programados para Última Lucha IV:
Mil Muertes vs. The Mach (Death Match)
El Dragon Azteca Jr. vs. Fénix (Combate de dos a tres caídas)
Pentagon Dark vs. Marty «The Moth» Martinez (Lucha Underground Championship)
Son Of Havoc derrotó a Killshot en una lucha sucia con ambos luchadores intentando quitar la máscara del contrario. Son of Havoc se lleva la victoria al conseguir la cuenta de tres después de aplicar un Roll Up. Killshot se enfada después de la lucha y golpea a Son of Havoc con unas cadenas. Le quita la máscara y Antonio Cueto aparece para anunciar que ambos pondrán la máscara en juego en Última Lucha IV.
This is just plain mean, Killshot #LuchaUnderground @StricklandShane pic.twitter.com/axbYFXlwyo

— Lucha Underground (@LuchaElRey) October 4, 2018
Marty «The Moth» llega con Chelsea Green y la presenta como Reclusa, la luchadora que estuvo acosando a Sexy Star. Además, dice que no se olvida de su familia y que su primera defensa titular no será contra Pentagon Dark, si no contra su hermana Mariposa.
Marty «The Moth» Martinez derrotó a Mariposa para retener el Campeonato de Lucha Underground en un combate sin descalificación. El combate fue muy extremo  y Mariposa no tardó en sangrar por la cabeza. Marty acabó sepultado por un montón de sillas después de casi partir la espalda de su hermana contra la rampa. El campeón se lleva la victoria tras un Package Piledriver después de que Reclusa interviniera para distraer a Mariposa.
The Funk Brothers would be proud #ECW #LuchaUnderground @FutureLegendCF pic.twitter.com/7Bh6PUft8V

— Lucha Underground (@LuchaElRey) October 4, 2018
Después de la lucha Marty dice que no tiene miedo a Penta y que en Ultima Lucha van a tener un combate al estilo Cero Miedo. Después de esto aplica palanca de brazo a su hermana, hasta que Penta sale para que Marty escape. Penta insulta y amenaza al campeón para de esta forma terminar el show semanal de Lucha Underground.