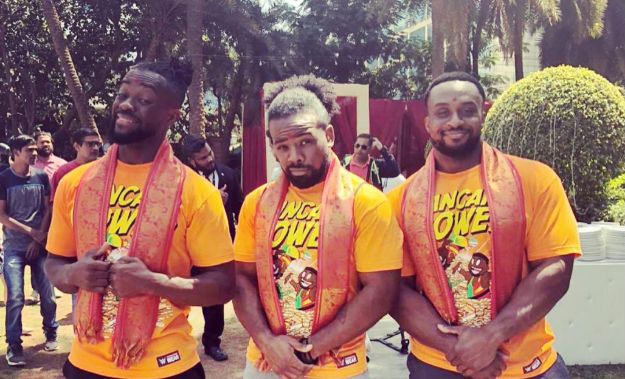 New Day uno de los grupos más importantes de SmackDown Live y con Kofi Kingston como su protagonista principal, no están este fin de semana en la carretera y os contamos el porque.
¿Porque no están New Day en los live shows de este fin de semana?
The New Day ha sido unos de lo favoritos del público en los eventos en vivo de la WWE desde que se formaron en 2014. Kofi Kingston ahora está cosechando los beneficios en su carrera individual de ser parte de ese equipo popular. Sin embargo, los fans de los eventos en vivo de la WWE no verán The New Day este fin de semana porque ni siquiera están en los Estados Unidos.
The New Day fue enviado a la India en una misión para hablar sobre WWE. Con las pruebas de la WWE de la India a partir de hoy y un Centro de rendimiento de la WWE aparentemente en camino, tenían mucho de qué hablar.
Kofi Kingston regresará a tiempo para aparecer en SmackDown Live esta semana, así que no te preocupes por eso. Ciertamente tenían una gran multitud para saludarlos en la India para que se sintieran como en casa.
El entrenador de NXT Performance Center, Robbie Brookside, también representa a WWE en este viaje y publicó un video de la enorme cantidad de personas que se reunieron para saludarlos.
Entonces, si te preocupa que The New Day haya sido retirado de los eventos en vivo de la WWE por algo malo, deja de preocuparte. La compañía todavía los tiene en gran consideración para enviar el trío a otro país para representar a la WWE.
SUPER SUNDAY JUST GOT BETTER! 😎

The New Day has arrived and receives the traditional Indian welcome. 🤩#TheNewDayInIndia #WWE #SPNSports @TrueKofi @WWEBigE @XavierWoodsPhD pic.twitter.com/kRJF84KtcO

— SPN_Action (@SPN_Action) 3 de marzo de 2019
#India will see rainbows, unicorns, pancakes and a rush of positivity tomorrow! @TrueKofi @XavierWoodsPhD @WWEBigE #IndiaWelcomesTheNewDay pic.twitter.com/S16cdVI968

— WWE (@WWEIndia) 2 de marzo de 2019