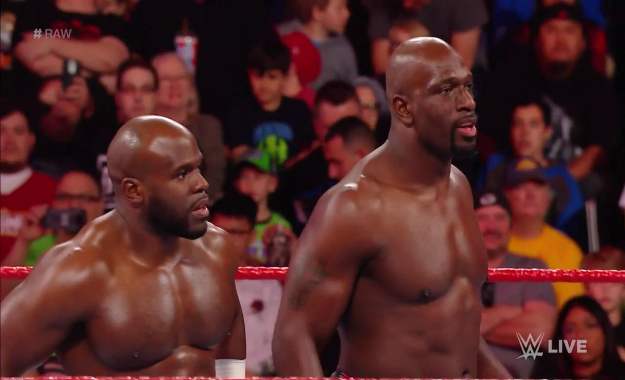 Durante el episodio del 19 de Febrero de WWE RAW se enunció que el campeonato de parejas de WWE RAW será defendido en WWE Elimination Chamber 2018. Cesaro & Sheamus se enfrentarán a Titus O´Neil y Apollo Crews.
The Titus Worldwide se ganaron la oportunidad a derrotar a los campeones de parejas de WWE RAW Cesaro & Sheamus.
The Bar vs. Titus Worldwide
Segundo combate de la noche y tenemos a Apollo, que tiene nombre sin apellido y Titus, enfrentándose a los actuales campeones por parejas en una lucha no titular. Combate rápido pero aceptable donde Apollo conseguiría dar la victoria a su equipo después de aprovechar una distracción de Cesaro y hacerle un roll up para la cuenta de tres. Veremos si esta combate se da o no en Elimination Chamber el próximo domingo.
Cartelera actualizada de WWE Elimination Chamber 2018
Elimination Chamber masculina: Por primera vez 7 hombres competiran dentro de la Elimination Chamber en un combate en el que el ganador se enfrentará a Brock Lesnar en Wrestlemania 34. Elias saldrá el último mientras que The Miz será el primer hombre en entrar. Elias vs. Seth Rollins vs. Finn Balor vs. The Miz vs. John Cena vs. Roman Reigns.
Elimination Chamber femenina: Asuka tiene su puesto asegurado en Wrestlemania y esperará a conocer quién es la campeona femenina de RAW en esa fecha. Bayley vs. Mandy Rose vs. Mickie James vs. Sonya Deville vs. Sasha Banks vs. Champion Alexa Bliss.
RAW Tag Team Title Match: Titus O'Neil & Apollo vs. Cesaro & Sheamus
Nia Jax vs. Asuka: Si Nia Jax consigue derrotar a la japonesa luchará por el campeonato femenino de RAW en Wrestlemania, convirtiéndose el combate en una triple amenaza.
Matt Hardy vs. Bray Wyatt
Firma del contrato de Ronda Rousey
Elimination Chamber tendrá lugar este Domingo y desde Planeta Wrestling estaremos realizando una cobertura en vivo del mismo. ¡No te lo pierdas!