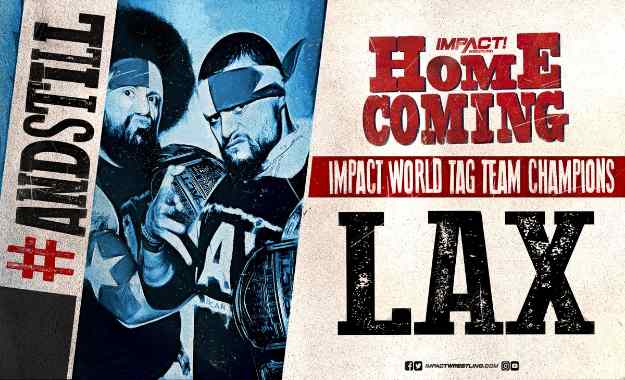 LAX retiene los campeonatos por parejas de Impact Wrestling en Homecoming
En el primer PPV de 2019 de Impact Wrestling, Homecoming, LAX han derrotado a uno de los tag team mas poderosos no solo de Impact Wrestling, si no de todo el mundo, y es el tag team conocido como Lucha Bros! formado por Pentagon Jr. y Fenix.
This is one of the most incredible tag team matches in IMPACT history. #IMPACTHomecoming @SantanaLAX @Ortiz5150 pic.twitter.com/bVXIwLZXkF

— IMPACT (@IMPACTWRESTLING) January 7, 2019
El combate ha sido apoyado por los fanáticos como el mejor del show hasta el momento con cánticos de «holy shit» «This is awesome» «this is Impact» y «fight forever». LAX sigue sumando días en su reinado como campeones por parejas de Impact Wrestling.
¿Qué ocurrió en el combate?
Comienza el combate con Santana y Fenix que forcejean pero pronto esta Pentagon y le aplican un movimiento conjunto al igual que a Ortiz a lo que Fenix se lanza con un suicide dive y Pentagon aplica un DDT seguido del conteo que queda en 2. Momento de LAX para que Ortiz y Santana apliquen movimnientos conjutnos a Fenix a lo que Pentagon entra y golpea con todo a ambos hasta que salen fuera del ring y Fenix se lanza con una suicide dive y Pentagon por la tercera cuerda. Cánticos de «this is awesome» y Pentagon aplica a Ortiz y codebreaker seguido de un foot stomp de Fenix del esquinero y el conteo que Santana salva. Se forma un brawl en el ring y LAX aplican movimientos conjuntos a Fenix que invierte con un DDT brutal a Ortiz y Pentagon aplica un mexican destroyer a Ortiz para quedar todos sobre la lona bajo cánticos de «this is wrestling!» Pentagon y Ortiz se golpean con repetidos chops hasta que ambos se aplican varias superkicks y Fenix le aplica una superkick a Santana y este aplica una superkick a Fenix seguido de una jumping knee de Ortiz a Pentagon y una vez más todos quedan sobre la lona bajo una ovación. Pentagon aplica a Santana un piledriver junto a un foot Stomp de Fenix y el conteo que Ortiz salva. LAX aplican su movimiento tag team final a Pentagon y el conteo que Fenix se lanza desde las cuerdas y rompe el conteo. Cánticos de «fight forever!» y Fenix aplica una superkick a Santana a lo que Ortiz se da el relevo y aplica un codebreaker seguido de una superkick de Santana y una doble suplex invertida seguido del conteo de Ortiz para ganar el combate. LAX derrotaron a Pentagon Jr. y Fenix para retener los Impact World Tag Team Championship.