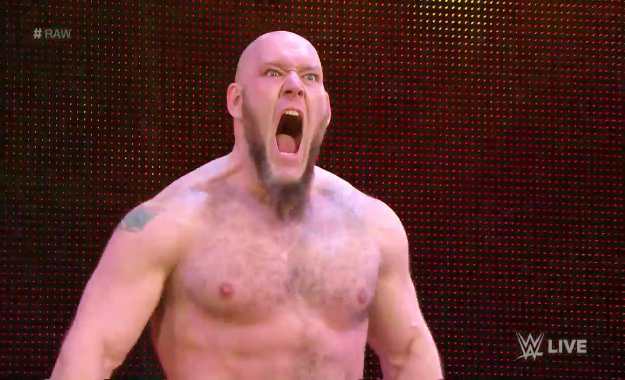 Lars Sullivan realiza su debut en WWE RAW.
Baron Corbin dice que Kurt Angle lo escogió a él para ser su rival en el ultimo combate de este de su carrera y que ayer le demostró que era mejor que él. Sale Kurt Angle que reconoce la derrota de ayer y le desea toda la suerte del mundo, pero la mala suerte y le aplica un Angle Slam y un Ankle Lock
De repente suena la música de Lars Sullivan que sale al ring y le aplica el Freak Accident a Kurt Angle y un headbutt desde la esquina.
Tras este ataque de la nueva superestrella de la marca roja de RAW realizando su debut atacando al ya retirado y perteneciente Hall of Famer, Kurt Angle, nos trasladamos a comerciales.
Claves del episodio post-WrestleMania 35 de WWE RAW.
A continuación, los puntos claves del episodio de hoy:
Seth Rollins mata a The Best
El Big Dog recupera su terreno
El segundo Intercontinental Title es  "too sweet" para  Bálor
La racha de derrotas termina para Curt Hawkins
Todos los resultados, todas las noticias, todo lo que ocurra durante el programa de WWE RAW de 8 de abril posterior a WWE WrestleMania 35, y que marca el inicio de la nueva temporada, solo lo podrás vivir aquí, en Planeta Wrestling… ¿Dónde sino?
Antes de la emision de WWE RAW, tenemos las grabaciones de Main Event donde en el prlmer combate de la noche, Jinder Mahal con los Hermanos Singh venció a No Way Jose.
En el segundo combate de las grabaciones de Main Event, Heavy Machinery han derrotado a The Ascension.
Estén atentos a todas las redes de Planeta Wrestling para estar informados sobre todas las novedades y noticias sobre el mundo del wrestling, la lucha libre y sobre todo la mejor informacion sobre WWE en español.