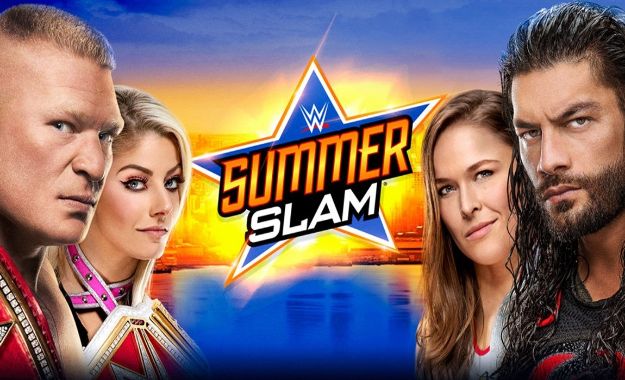 Cuando quedan 11 días para que se celebre el mayor evento del verano, SummerSlam, esta es la cartelera actualizada para el mismo a día de hoy, 8 de agosto.
Cartelera Actualizada de SummerSlam 2018
WWE ha actualizado la cartelera de SummerSlam que se llevará a cabo y estos son los combates confirmados hasta el día de hoy,
* WWE Universal Championship Match: Brock Lesnar vs. Roman Reigns
* WWE Championship Match: AJ Styles vs. Samoa Joe
* Raw Women's Championship Match: Ronda Rousey vs. Alexa Bliss
* Smackdown Women's Championship Match: Carmella vs. Becky Lynch vs. Charlotte Flair
* Smackdown Tag Team Championship Match: The Bludgeon Brothers vs. The New Day
* Money in the Bank Contract On the Line: Braun Strowman vs. Kevin Owens
* WWE United States Championship Match: Shinsuke Nakamura vs. Jeff Hardy
* WWE Intercontinental Championship Match: Dolph Ziggler vs. Seth Rollins
* WWE Cruiserweight Championship Match: Drew Gulak vs. Cedric Alexander
* Finn Balor and Baron Corbin
* Daniel Bryan vs. The Miz
El PPV se llevará a cabo el próximo 19 de agosto desde el Barclays Center de Brooklyn y se emitirá a través del WWE Network.
Flecos pendientes para SummerSlam
Aunque la cartelera ya parece bastante completa tal y como la vemos ahora, aún quedan algunos detalles por pulir de cara al evento.
En el bando de RAW, queda por saber que sucederá con los campeonatos de parejas, ya que la semana que viene hay una triple amenaza en el programa semanal donde B-Team pondrán en juego los mismos contra Deleters of the World y The Revival.
Probablemente del resultados de este combate saldrá el combate por los títulos en SummerSlam.
Por su parte en la marca azul de Smackdown nos queda por resolver saber que pasará con Asuka y Randy Orton, ya que ninguno de los dos tienen un combate definido para el evento. Se rumorea que Asuka podría acabar en el combate por el título femenino de Smackdown mientras que Orton podría verse involucrado en el combate por el título de Estados Unidos, pero nada de esto está confirmado.