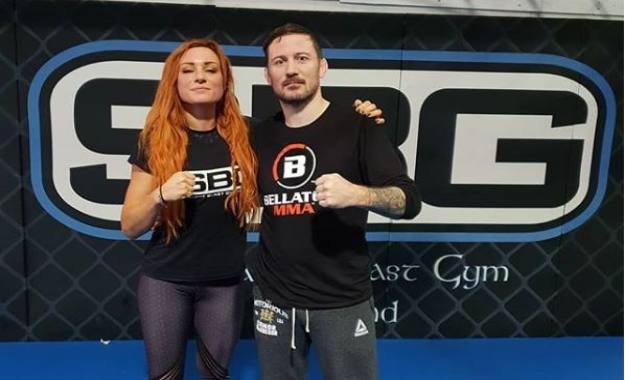 Becky Lynch entrena con el entrenador de Conor McGregor y Planeta Wrestling, la web número uno sobre WWE en español, te sigue contando toda la actualidad en relación con «The Man» y su magnifico final de año 2018.
Becky Lynch entrena con el entrenador de Conor McGregor
Becky Lynch se encuentra actualmente en Dublín, Irlanda, para disfrutar de una merecidas vacaciones de navidad. Como se ve a continuación, The Man visitó al entrenador de Conor McGregor, John Kavanagh, en el Straight Blast Gym (SBG). El entrenador K notó en Instagram que trabajaron en «defensa de barra de armadura y algunos contra tiros furtivos» durante su sesión de entrenamiento.
While the rest of the division is on break and painting each others toenails, The Man is back around Dublin teaching and learning, working and improving. Any 1% chance Ronnie had of beating me is gone. My Christmas will be smashing that little weirdo in 2019. pic.twitter.com/DsfmXbm52O

— The Man (@BeckyLynchWWE) December 22, 2018
Becky escribió: «Mientras que el resto de la división femenina está en descanso vacacional y pintándose las uñas de los pies, The Man está de vuelta en Dublín enseñando y aprendiendo, trabajando y mejorando. Cualquier 1% de probabilidad que Ronnie haya tenido de golpearme, se ha ido. Mi Navidad será aplastante. Seré ese pequeño bicho raro en 2019»
A continuación, os dejamos el vídeo de Becky Lynch trabajando la bicicleta de entrenamiento con Sheamus en su canal de Celtic Warrior Workouts en YouTube, que actualmente cuenta con 191 mil suscriptores.
Se cancela el combate entre Asuka y Becky Lynch en Royal Rumble
WWE ha hecho oficial que el combate por el Smackdown Women's Championship entre Becky Lynch contra la SmackDown Women's Champion Asuka, no se llevará a cabo en el pago por ver de WWE Royal Rumble 2019.
Anteriormente señalamos cómo se anunció Lynch vs. Asuka en el episodio del show de Smackdown live de esta semana, que incluyó un tema de resumen presentado por Scott Stanford. Paige escribió desde su cuenta oficial de Twitter esta tarde y dijo que el combate no estará ocurriendo.
Paige escribió: "Asi que traté de hacer un último combate antes de que mi tiempo como #SDLive GM llegara a su fin … pero desafortunadamente, @BeckyLynchWWE contra @WWEAsuka por el Campeonato Femenino de Smackdown NO es oficial para #RoyalRumble. #Oops"
Aún no se sabe a quién se enfrentará Asuka en el PPV WWE Royal Rumble el 27 de enero desde Chase Field en Phoenix, pero los mantendremos informados desde Planeta Wrestling.