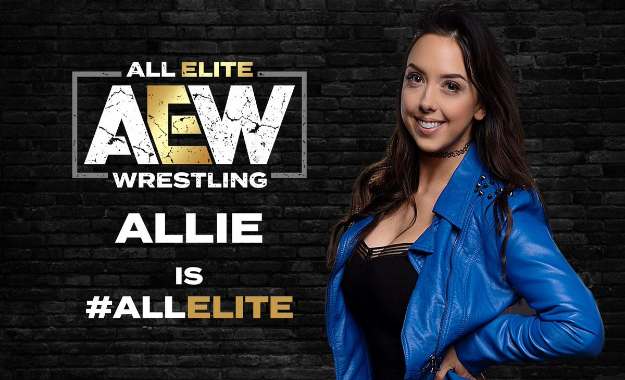 Allie llega a AEW
La luchadora de Impact Wrestling Allie ha firmado un contrato con All Elite Wrestling para aparecer en el PPV AEW Double or Nothing. Este evento se celebrará el 25 de mayo de 2019 en el MGM Grand Garden Arena en Las Vegas, Nevada.
Este fichaje ha sido anunciado por la empresa AEW a través de su cuenta oficial de Twitter:
As seen on episode 8 of The Road to Double or Nothing … @AllieImpact is now #AllElite #AEW pic.twitter.com/XgSSvwpZ2O

— All Elite Wrestling (@AEWrestling) March 21, 2019
¿Quién es Allie?
Allie, cuyo nombre real es Laura Dennis es una luchadora canadiense que hizo carrera en las empresas independientes americanas y en el Joshi Puroresu en Japón antes de llegar a Impact Wrestling.
En cuanto a su vida personal está casada con el luchador Braxton Sutter, que también interpreta a su pareja en los shows de Impact Wrestling. Tiene una buena base de fans, debido en parte a sus acciones caritativas y a ser una férrea defensora de la naturaleza, llegando a declararse vegana respecto a su alimentación.
Sobre el ring Allie ha ido escalando posiciones en los listados de las mejores luchadores del mundo, llegando a estar en varias ocasiones entre las 20 primeras. El mayor logro de su carrera profesional fue conseguir el campeonato de las Knockouts de Impact.
The Road to Double or Nothing
El el capítulo 8 de la serie de vídeos «The Road to Double or Nothing» que AEW ha publicado en su canal de Youtube se anunció el fichaje de la luchadora. Además, el programa dio un repaso a la visita de los Young Buck a México, donde se proclamaron nuevo campeones en parejas de Triple A. Además, se da alguna pista de como será el campeonato máximo de la empresa.
Para estar atentos a todo lo que pase con AEW no te pierdas nada de lo que publiquemos en Planeta Wrestling, la web número uno de Noticias de AEW en Español.