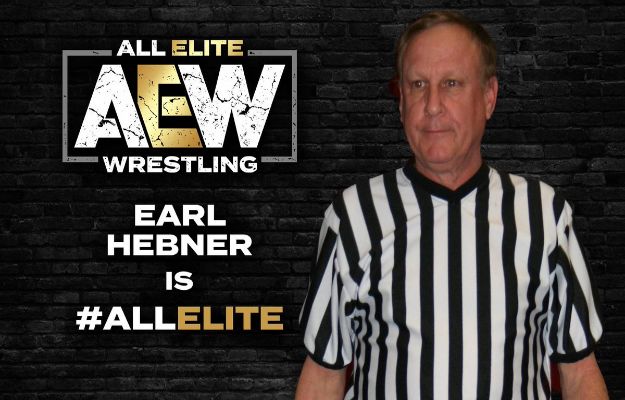 AEW firma a Earl Hebner. La empresa confirmó anoche su fichaje más el de otros árbitros que formarán parte del elenco de AEW.
AEW firma a Earl Hebner
AEW ha agregado otro árbitro a su roster, en este caso uno de los más famosos. La compañía anunció el martes por la noche que el ex-arbitro de WWE y TNA, Earl Hebner, ha firmado con la compañía.
Hebner es uno de los árbitros más conocidos en la industria de la lucha libre, siendo un pilar de WWE desde finales de los 80 hasta mediados de los 2000. Fue el árbitro del infame Montreal Screwjob y participó en el combate de Andre the Giant vs. Hulk Hogan de 1988 en el show de Saturday Night´s Main Event en 1988, que vio a André the Giant derrotar a Hulk Hogan y rápidamente vender el Campeonato WWF a Ted DiBiase. En la historia, Dave, el hermano gemelo idéntico de Earl, se disponía a arbitrar el combate, pero DiBiase sobornó a Earl para que hiciera trampa, encerró a Dave en un vestuario y contó un pin rápido para Andre.
All Elite Wrestling ha agregado también al árbitro de ROH con mas tiempo en la compañía a su elenco. La compañía anunció el martes por la tarde que Paul Turner se unirá a la compañía. Puedes ver el anuncio a continuación. Turner ha estado con ROH desde su formación en 2002.
Please help us welcome @RefTurnerAEW to the team.
Paul Turner is #AllElite pic.twitter.com/vMknCyh4Tn

— All Elite Wrestling (@AEWrestling) 14 de mayo de 2019

Turner se une a los previamente anunciados Rick Knox y Bryce Remsburg como árbitros de AEW.
Además la empresa también ha anunciado la llegada a la empresa de la árbitro, Aubrey Edwards, que es conocida por haber participado en el Mae Young Classic de WWE de 2018.
. @RefAubrey is #AllElite
Welcome to the team Aubrey Edwards pic.twitter.com/OemzQeNZwt

— All Elite Wrestling (@AEWrestling) 15 de mayo de 2019