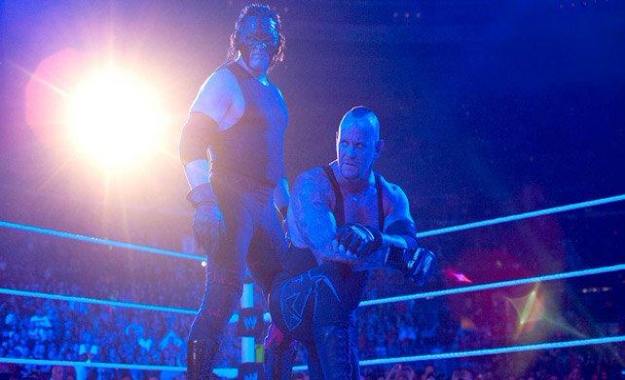 The Undertaker y Kane/ El hombre detrás de la máscara de Kane, Glenn Jacobs, se postuló para alcalde del condado de Knox, Tennessee, y varias superestrellas de la WWE han extendido su apoyo, incluido The Undertaker que ha hecho un parón en su particular Road to WrestleMania.
El jueves, «The Undertaker» y «The Demon» se reunieron para recaudar fondos en nombre de la campaña de la alcaldía de Jacobs en el Rothchild Catering & Conference Center en Knoxville, Tennessee. El equipo de campaña de Jacobs señaló el evento como la primera vez que The Undertaker y Kane aparecieron juntos fuera del ring.
Con un costo de $ 50 a $ 150, el evento permitió a los fana obtener autógrafos y fotos con «The Brothers of Destruction». Desde que el evento se terminó muchas fotos de los fanáticos se vieron con los dos en las redes sociales.
SAVAGE evening for #JacobsforMayor
Huge thanks to Mark Calloway, WWE's Undertaker, for coming out to show his support for the next Mayor of Knox County! pic.twitter.com/GdQcjPRcMl

— Dean Harned (@Dean_Harned) March 2, 2018
Kane and Undertaker hope to get a photo with them up in the near future. #JacobsforMayor pic.twitter.com/DENOpS8T2h

— Tennessee Revolver (@TNRevolver) March 2, 2018
Wow! No big deal, but I just met The Undertaker & Kane! pic.twitter.com/xqS9Dylmqb

— Proud Nakamerican (@LeslieMinesIII) March 2, 2018
I can check one thing off of my bucket list. Getting to meet the Phenom, The Undertaker and the Big Red Monster Kane. Taker never does personal appearances, so this was a once in a lifetime thing. I saved this magazine for 27 years. Unopened until tonight. Wow. #JacobsForMayor pic.twitter.com/3FP6jp8ixN

— Rad Rob (@radrobgaming) March 2, 2018
Name a better duo. I'll wait. Happy Birthday to me! #Undertaker #Kane #BrothersOfDestruction pic.twitter.com/OuwA4eoOiY

— Brock Lesnar Guy (@BrockLesnarGuy) March 2, 2018
Ayer salieron a la luz varios rumores sobre el posible combate en Wrestlemania 34 de John Cena contra Rey Mysterio. Hoy Dave Meltzer ha confirmado que WWE sigue con la idea del combate The Undertaker contra John Cena en Wrestlemania 34.
John Cena vs The Undertaker en Wrestlemania 34
A pesar de los fuertes rumores que surgieron ayer en las redes después de que Justin Barraso dijera que Rey Mysterio estaba en San Diego para firmar por WWE y luchar contra John Cena en Wrestlemania.
Hoy Dave Meltzer en el Wrestling Obserer Newsletter ha asegurado que a día de hoy, la idea de WWE es hacer el John Cena contra The Undertaker en Wrestlemania 34, y que esto sólo cambiaría en caso de que The Undertaker pudiera sufrir una lesión entrenando para el combate.
Meltzer también ha ido más allá y ha dicho que la rivalidad de The Undertaker contra John Cena podría comenzar en Fastlane o en el programa posterior de WWE Smackdown Live después de Fastlane.
Respecto a Kane, aún no hay planes para él de manera inmediata ni para WWE WrestleMania 34.