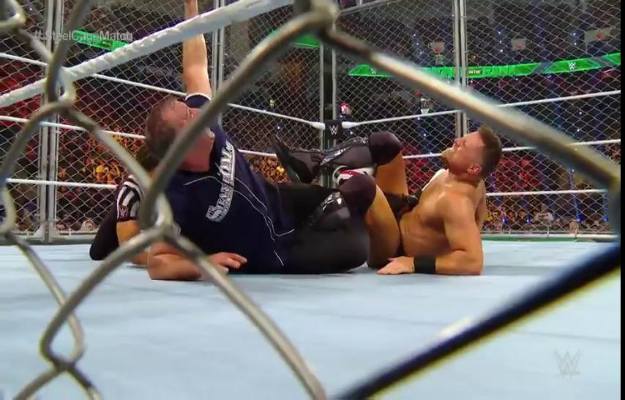 Shane McMahon sale de la jaula en MITB
Shane McMahon derrotó a The Miz en Money in The Bank al lograr escapar de la steel cage. Antes del combate Shane había subido una foto de su nueva camiseta, la que utilizaría esta noche en Money in The Bank.
Feeling cagey? #MITB pic.twitter.com/sygwzL3Nzz

— Shane McMahon (@shanemcmahon) May 19, 2019
Es precisamente gracias a esa camiseta que Shane McMahon ha conseguido ganar el combate, ya que se ha deslizado por dentro de ella y de esta forma ha conseguido la victoria.
.@mikethemiz just TOSSED @shanemcmahon from the top of the steel cage! #MITB pic.twitter.com/2mc4G1jlW2

— WWE (@WWE) May 20, 2019
¿Cómo fue el combate?
El combate se inicia con Shane McMahon intentando de escapar de la Steel Cage pero The Miz se lo impide diversas ocasiones. The Miz domina el combate aplicándole varias dropkicks a Shane. Shane retoma el control tras varios golpes a Miz. Shane intenta de realizar el coast to coast pero The Miz lo alcanza al vuelo y lo introduce en una Figure 4 lock. Tras el candado aplicado por The Miz para Shane, Shane intenta de escapar por la puerta de la jaula pero no lo logra y saca una silla metálica. The Miz castiga durante un buen rato a Shane McMahon con la silla metálica. Tras varios intentos de escapar de la jaula, Shane McMahon cae hacia la lona y The Miz intenta escapar. Shane se va a por The Miz y este intenta de realizar un superplex desde arriba de la celda. Shane se resbala y logra salir de la celda.
GANADOR: Shane McMahon vence a The Miz en MITB
No te pierdas nada sobre Money in The Bank
Esta noche WWE presenta una nueva edición de Money in The Bank. Planeta Wrestling, la web número uno de WWE en Español te trae la mejor cobertura de MITB 2019 en vivo. ¡No te pierdas una noche mágica con todos nosotros!
Recuerda que estás invitado a seguir el PPV con todos nosotros a través de nuestro grupo de WhatsApp. Puedes entrar en el siguiente enlace.