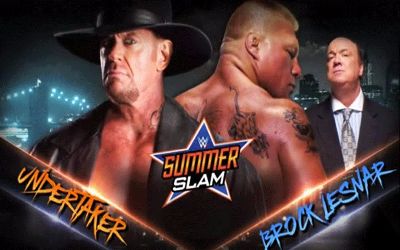 SummerSlam 2015 fue un evento profesional de pay-per-view (PPV) de lucha libre producido por WWE. Se llevó a cabo el 23 de agosto de 2015, en Barclays Center en Brooklyn, Nueva York. El vigésimo octavo acontecimiento bajo la cronología de SummerSlam, éste era el primer desde 2008 a ser celebrado fuera de Los Ángeles donde el Staples Center fue la arena exclusiva para SummerSlam desde el 2009 a 2014, y el octavo SummerSlam que se celebrará en el área metropolitana de Nueva York .
Las rivalidades mas importantes de SummerSlam 2015
En WrestleMania XXX en 2014, Brock Lesnar derrotó a The Undertaker para romper su racha de invicto en WrestleMania . Cuatro meses más tarde, Lesnar derrotó a John Cena en SummerSlam para ganar el WWE World Heavyweight Championship, pero lo perdió al año siguiente en WrestleMania 31 en su combate contra Roman Reigns cuando Seth Rollins cobró su maletín del Money in the Bank y ganó el Campeonato. Lesnar recibió su revancha contra Rollins en Battleground, y estaba acabando el combate cuando The Undertaker regresó y atacó Lesnar, causando que Lesnar ganara por descalificación, pero no ganara el campeonato. La noche siguiente, una revancha entre Lesnar y Undertaker fue programada para SummerSlam. Este sería el primer combate en SummerSlam de Undertaker desde 2008, y su primer combate de pago por visión fuera de WrestleMania desde Bragging Rights en 2010.
En el episodio del 20 de julio de Raw, el campeón de Estados Unidos John Cena desafió al Campeón Mundial de Peso Pesado de WWE Seth Rollins a un combate por el WWE World Heavyweight Championship, pero Rollins se negó. En el episodio del 27 de julio de Raw, Cena nuevamente desafió a Rollins, pero The Authority le obligó a defender el Campeonato de Estados Unidos contra Rollins. Cena derrotó a Rollins, pero salió con nariz rota durante el partido. En el episodio del 3 de agosto de Raw, Rollins desafió a Cena a un combate «winner takes all» en SummerSlam, jugándose el campeonato pesado del mundo de WWE y el campeonato de Estados Unidos. En el episodio del 11 de agosto de Tough Enough, Cena aceptó el desafío de Rollins.
Ryback ganó el campeonato intercontinental en un Elimination Chamber Match en PPV, Elimination Chamber. En el episodio del 1 de junio de Raw, Ryback estaba programado para hacer su primera defensa del título contra The Miz, pero Big Show atacó a The Miz, impidiendo que combate se produjera, y se enfrentó a Ryback. En Money in the Bank, Big Show derrotó a Ryback por descalificación después de que Miz lo atacara; Por lo tanto, Ryback conservó el campeonato. El 22 de junio, Ryback estaba programado para defender el título contra Big Show y Miz en un Triple Threat Match en Battleground, pero después de que Ryback sufriera una lesión, el combate fue pospuesto y el 6 de agosto reprogramado para SummerSlam.
En Money in the Bank, Bray Wyatt atacó a los Roman Reings durante el combate de Money in the Bank Match, lo que le impidió ganar el partido. En Battleground, Wyatt derrotó a Reigns después de que Luke Harper interfirió y atacó a Reigns, reuniendo a la familia Wyatt con Wyatt en el proceso. En el episodio del 20 de julio de Raw, Dean Ambrose con Reigns como manager derrotó a Harper por descalificación. En la edición del 6 de agosto de SmackDown, Reigns desafió a Wyatt a un combate de parejas en SummerSlam, con Reigns y Ambrose frente a Wyatt y Harper, que Wyatt aceptó.
Resultados de SummerSlam 2015
1- Sheamus derrotó a Randy Orton 12:28
2- The New Day (Big E & Kofi Kingston) (con Xavier Woods) derrotaron aThe Prime Time Players (Darren Young & Titus O'Neil) (c), The Lucha Dragons (Sin Cara & Kalisto) y Los Matadores (Diego & Fernando) (con El Torito) en un Fatal 4-Way tag team match para ganar los WWE Tag Team Championship 11:20
3- Dolph Ziggler (con Lana) vs. Rusev (con Summer Rae) acabó en doble countout 11:50
4- Stephen Amell & Neville vencieron a Stardust & King Barrett 7:35
5- Ryback (c) ganó a Big Show & The Miz en un Triple Threat match para retener el WWE Intercontinental Championship 5:33
6- Dean Ambrose & Roman Reigns derrotaron a The Wyatt Family (Bray Wyatt & Luke Harper) 10:55
7- Seth Rollins (WWE World Heavyweight Champion) venció a John Cena (U.S. Champion) en un Winner Takes All match por el WWE World Heavyweight y el WWE United States Championship 19:44
8- Team PCB (Paige, Charlotte & Becky Lynch) ganaron a Team Bella (Brie Bella, Nikki Bella & Alicia Fox) y al Team B.A.D. (Sasha Banks, Naomi & Tamina) 15:20
9- Kevin Owens derrotó a Cesaro 14:18
10- The Undertaker ganó a Brock Lesnar (con Paul Heyman) 17:50