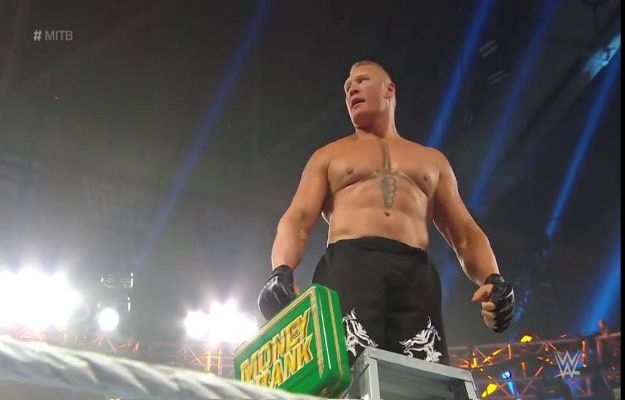 Brock Lesnar canjeará el maletin WWE Money in the Bank este lunes. Así lo anunció Paul Heyman a través de un tweet la pasada noche.
Brock Lesnar canjeará el maletin Money in the Bank este lunes
Paul Heyman llegó a Twitter esta tarde y anunció que Brock Lesnar cambiará su maletín de Money In the Bank retando al Campeón Universal de WWE, Seth Rollins, durante la RAW del lunes en Austin, Texas.
Como se señaló el jueves, Stephanie McMahon lanzó un video que condenaba las acciones de Lesnar y Heyman en el RAW de esta semana. Stephanie prometió que la Familia McMahon y el equipo ejecutivo de la WWE tomarían medidas con respecto a los dos durante el RAW del lunes. Heyman respondió y dijo que Lesnar cobrará el maletín en RAW.
«Damas y caballeros, me llamo Paul Heyman y soy el defensor de Mr. Money In the Bank 2019, Brock Lesnar. Mi cliente ha sido informado de la condena de sus acciones por parte de WWE, tal como lo expone Stephanie McMahon en una diatriba. No hay necesidad de una reunión ejecutiva, no es necesario que la Familia McMahon se reúna nunca. Lo que se necesita es que mi cliente sea proactivo, en lugar de reactivo. Por lo tanto, señoras y señores, les advierto, por la presente, que mi cliente Brock Lesnar cobrará el contrato de Money in the Bank, haciéndolo efectivo este lunes 3 de junio de 2019, entre las 8 p.m. y las 11 p.m. ET, en un momento de su elección, en vivo el lunes por la noche en RAW contra el reinante, defensor, indiscutible Campeón del peso pesado universal, Seth Rollins.
«Y ahora que el Universo WWE ha sido informado, y la Familia McMahon ha sido informada, y el equipo ejecutivo ha sido informado, un mensaje personal para Seth Rollins de mi cliente, Brock Lesnar – Sr. Rollins, aquí viene el dolor». Heyman dijo.
Ladies and Gentlemen, please be advised my client @BrockLesnar hereby cashes in the @WWE #MoneyInTheBank contract …#RAW @StephMcMahon @WWERollins #BreakingNews pic.twitter.com/35SWHC2c65

— Paul Heyman (@HeymanHustle) 31 de mayo de 2019