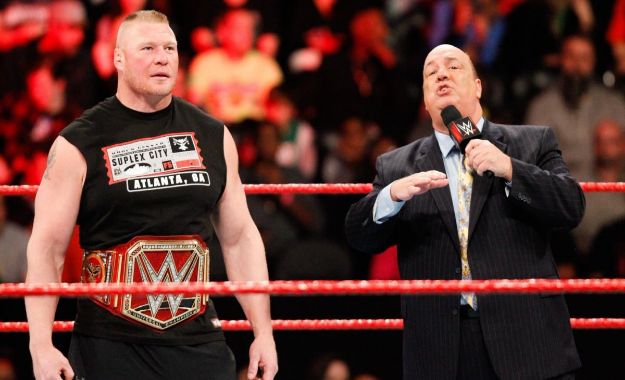 Paul Heyman fue ayer a Facebook y Twitter y confirmó que el Campeón Universal de la WWE, Brock Lesnar, estará en el programa de WWE RAW del lunes para enfrentarse al ganador del PPV WWE Elimination Chamber. Ese combate verá a Roman Reigns, Elias, Finn Balor, John Cena, Seth Rollins, Braun Strowman y al WWE Intercontinental Champion The Miz batallar para determinar el oponente de Lesnar en WWE WrestleMania 34. A continuación se muestra lo que Heyman escribió:
My congratulations in advance to the winner of @WWE #EliminationChamber. And my apologies, also in advance, for what @BrockLesnar will say to the face of that aforementioned winner of the Chamber, LIVE this Monday in Anaheim on #RAW! pic.twitter.com/u50wU5ApYl

— Paul Heyman (@HeymanHustle) February 24, 2018
Elimination Chamber Masculina: Braun Strowman vs John Cena vs Roman Reigns vs Elias vs Seth Rollins vs The Miz vs Finn Balor
Por primera vez en la historia vamos a tener una cámara de Eliminación de siete personas y el vencedor de la misma será el retador oficial de Brock Lesnar en Wrestlemania. Con Roman Reigns como claro favoritos según los rumores de internet falta por ver si WWE decide dar un cambio a esto y hacer que un invitado especial, se habla de Seth Rollins, pueda dar la sorpresa en el combate.
La novedad en este combate será el inicio del mismo ya que con 7 participantes, serán tres luchadores los que comienzan el match en lugar de los dos habituales. Ya sabemos por estipulaciones que se han ido resolviendo en los RAW anteriores que The Miz será uno de los primeros en iniciar el combate y que Elias será el último en aparecer en el combate.
Andrade «Cien» Almas/ Un segmento dentro del ring con el campeón de WWE NXT Andrade «Cien» Almas ha sido anunciado para el episodio del miércoles. Almas y Zelina Vega se dirigirán al Universo WWE después de la victoria de Career vs. Title de la semana pasada sobre Johnny Gargano.
Jeff Jarrett/ Tras el anuncio del lunes de que Jeff Jarrett ingresará al WWE Hall of Fame 2018, WWE Network agregó vídeos que destacan la carrera de «Double J» en la colección «WWE Hall of Fame: Class of 2018».