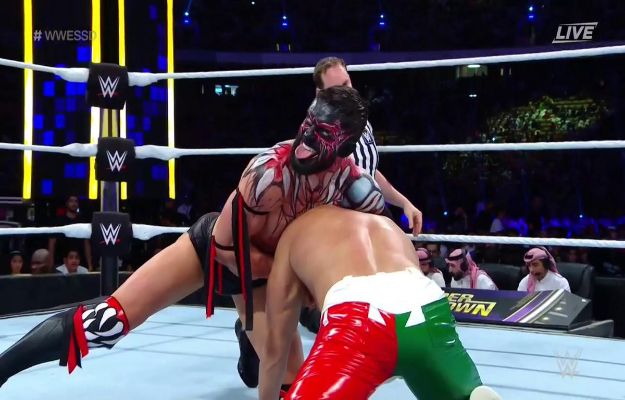 Finn Balor realizó una entrada espectacular en Super ShowDown
WWE Super Show Down | Independientemente del gran combate que Demon Balor y Andrade dieron en WWE Super ShowDown a los fans de Arabia Saudí y del resto del mundo les va a quedar grabada en la retina la entrada del Demon Balor.
Finn Balor sorprendió a todos con una entrada espectacular, haciendo que en el desierto nevara. WWE aplicó hielo seco durante la entrada del luchador, que traeremos editando esta nota para que la podaís disfrutar de nuevo tan pronto como WWE la haga pública.
Behold, your #ICChampion…

THE DEMON @FinnBalor! #WWESSD pic.twitter.com/35V4wdMbuI

— WWE (@WWE) June 7, 2019
WWE volvió a utilizar la pirotecnia en la presentación del PPV y en las entradas de los luchadores, tal y como viene haciendo en los últimos PPV´s de Arabai Saudí. A pesar de que el set de Super Show Down es el mismo que el de Wrestlemania la empresa si se han molestado en que las presentaciones y las entradas sean espectaculares.
¿Qué tal le fue al Demon Balor?
La lucha da inicia y es un intercambio de grande golpes y movimiento dentro del ring, Andrade logra dominar por un momento la lucha, pero Balor se recupera y los aca del ring para luego aplicar una tremenda Bala de Cañon.
Is @AndradeCienWWE about to become the FIRST Superstar to pin "The Demon" @FinnBalor? #WWESSD pic.twitter.com/kZ4UQvTYyQ

— WWE (@WWE) June 7, 2019
El mexicano retoma el control de la lucha, y castiga brutalmente ea Balor, luego aplica su Hammerlock DDT y el conteo solo llega a 2. Balor aplica Power Bomb, seguido de patadas voladoras contra Andrade, impactándolo contra el poste, Balor busca el Coup De Grace, pero Andrade se levanta e intenta Super Plex, pero el irlandés consigue convertirlo en DDT y luego aplicar Coup De Grace para llevare la victoria y retener el cinturón.
No te pierdas la cobertura de Super ShowDown en vivo