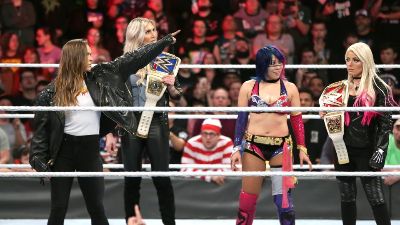 A continuación os traemos un vídeo de Ronda Rousey una vez Royal Rumble dejó de emitirse, también las primeras declaraciones de AJ Styles al término del show de WWE, y un Fallout de Rhyno y Slater sobre su participación en el Rumble.
WWE: Rousey se deja querer por el público tras el Rumble.
Como ya os hemos contado, Ronda Rousey hizo su debut en la WWE dentro del show Royal Rumble en Filadelfia e interrumpió a la ganadora de Rumble Asuka durante su segmento post-combate con la SmackDown Women's Champion Charlotte Flair y la RAW Women's Champion Alexa Bliss. Rousey trató de estrechar la mano de Asuka, pero Asuka la apartó. Rousey también señaló el letrero de WrestleMania 34 varias veces, pero la oponente de Asuka para WrestleMania nunca fue anunciada.
WWE y ESPN informan que la ex campeona de UFC ha firmado un contrato de tiempo completo con WWE.
Ronda Rousey regresó a la zona de ringside después de que el Royal Rumble dejara de emitirse y saludó a los fans que estaban dando vueltas. El video del segmento post-show está a continuación:
Primeras declaraciones de AJ Styles
El WWE Champion AJ Styles publicó los siguientes comentarios en Twitter después de su victoria sobre Kevin Owens y Sami Zayn en el Handicap Match 2×1 en el Royal Rumble y después de que Shinsuke Nakamura ganara el Rumble masculino para ganar una oportunidad por el  título en WrestleMania 34:
They wanted the match.
They got the match.
But they were never going to get my title.

Time to watch the Men's #RoyalRumble match with MY @WWE Championship.

I'm ready for the next challenge…I'm on the road to @WrestleMania.#AndStill

— AJStyles.Org (@AJStylesOrg) January 29, 2018
A match many thought they'd never seen on this continent…in this ring…for this title will be the MAIN EVENT of @WrestleMania. #StylesVsNakamura #YeahOh … this is going to be #Phenomenal.

— AJStyles.Org (@AJStylesOrg) January 29, 2018
Fallout con Slater y Rhyno
A continuación se muestra un video de Heath Slater hablando con Charly Caruso después de su aparición en el WWE Royal Rumble de esta madrugada. Slater dice que eliminó al nuevo campeón por equipos de RAW Sheamus en 0.8 segundos, superando el anterior récord de 1 segundo establecido por Kane y Santino Marella. Rhyno se une a la entrevista y le da a Slater ánimos por mostrar un lado que nunca había visto antes. Rhyno dice que Slater nunca se dio por vencido y eso es lo que importa.