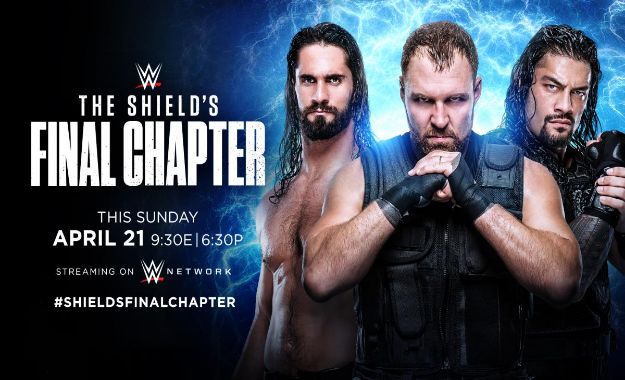 Último combate de The Shield en WWE Network. El próximo domingo 21 de abril, la empresa emitirá en directo el último combate del grupo en WWE Network.
The Shield en WWE Network
La superestrella de WWE, Dean Ambrose se unirá a Roman Reigns y al Campeón Universal Seth Rollins este domingo para el evento especial de WWE, el último capítulo de The Shield.
Este evento no solo será el último combate de The Shield, sino que probablemente será la última actuación televisada de Ambrose antes de que expire su contrato.
La noticia de la decisión de Ambrose de abandonar WWE surgió en enero y finalmente fue confirmada por la compañía después de que él rechazara un contrato de cinco años. El motivo de su partida se debió a la frustración creativa.
El último combate de The Shield tuvo lugar en WWE Fastlane cuando Ambrose, Rollins y Reigns derrotaron a Baron Corbin, Bobby Lashley y Drew McIntyre en el evento principal.
Ambrose, Rollins y Reigns disolvieron el grupo en Raw después de Fastlane y se creía que era la última vez que luchaban juntos.
No se esperaba que la reunión de The Shield se produjera debido al hecho de que Ambrose hizo un turn heel la noche después de que Roman Reigns anunció su batalla contra la leucemia.
Rollins y Ambrose seguirían peleando hasta 2019 después de que The Lunatic Fringe dijera cosas horribles sobre Reigns y su batalla contra el cáncer.
Esta historia se abandonó en cuanto Reigns volvió a la televisión y anunció que su cáncer estaba en remisión. Rollins lo saludó la semana siguiente cuando los dos acordaron reunir The Shield a petición de Reigns.
Con la disolución del grupo después del pago por visión de Fastlane, esta será la cuarta reunión de The Shield desde que el grupo se separó en 2014 por primera vez.