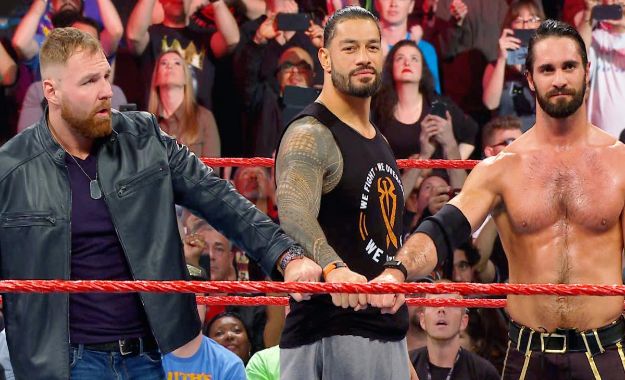 The Shield se vuelven a reunir tras WWE RAW. Parece que Dean Ambrose está teniendo su gira particular de despedida de la empresa.
The Shield se vuelven a reunir tras WWE RAW
The Shield se volvió a reunir después de que WWE RAW saliera de antena anoche cuando Dean Ambrose salió para despedirse de los fans de WWE en Canadá.
En el evento principal de RAW, Seth Rollins y Roman Reigns se unieron con la nueva cara de RAW, AJ Styles, para enfrentarse a Drew McIntyre, Bobby Lashley y Baron Corbin. Después de su victoria, Rollins y Reigns se quedaron en el ring para un dark match donde invitaron a su hermano en The Shield, Dean Ambrose, a salir y dirigirse a los fans en Canadá.
Con Dean, aparentemente listo para dejar WWE pronto, se dirigió a los fanáticos y les agradeció por su apoyo, así como a todos los fans de WWE en el Great White North. Ambrose alabó a los fans diciendo que su energía ayudó a las Superestrellas a arriesgar sus cuerpos.
Ambrose terminó con «Merci beaucoup, Montreal», agradeciendo a los fans que fueron a ver RAW. Puedes ver un vídeo corto a continuación:
Deano is here after Raw goes off air #WWERAW #RAW #MondayNightRaw @TheDeanAmbrose #SuperstarShakeup #shakeup #wweshakeup #WWE #deanambrose #ambrose #WWEMontreal #wwecanada #SethRollins #RomanReigns #WWE pic.twitter.com/FR0lho0R22

— WWE2420 🍀 (@wwe2420) 16 de abril de 2019

Dean Ambrose no apareció en WWE RAW
Curiosamente esta semana no pasó como la anterior en Brooklyn y Dean Ambrose no apareció en ningún segmento durante la celebración del programa de la marca roja.
Recordemos que el segmento de la semana pasada con Lashley se anunció como el último combate de Ambrose en RAW y parece que de momento la empresa va a cumplir con lo dicho, ya que el luchador no tiene previsto participar en ningún show más de la marca roja, ya que sus presentaciones con la empresa acaban el domingo 21 de abril.