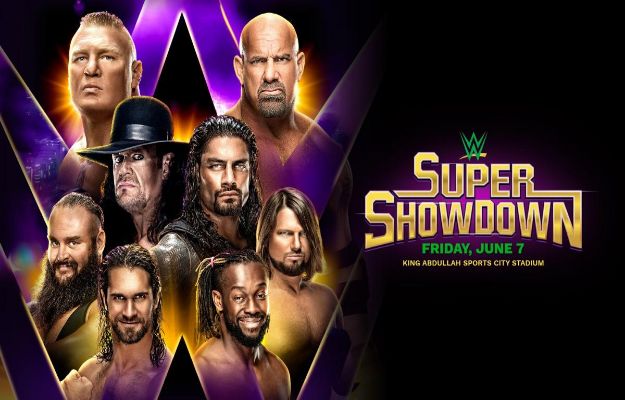 Posible cartelera para Super ShowDown del 7 de junio. El show de Arabia Suadí podría tener interesantes combates si esta filtración es cierta.
Posible cartelera para WWE Super ShowDown del 7 de junio
Como se anunció esta semana, WWE regresará a Arabia Saudí el 7 de junio para la segunda edición de WWE Super ShowDown.
Los anuncios locales que aparentemente están dando las noticias en Arabia Saudí han revelado algunos combates importantes para el show. Esto viene después de que la WWE ya confirmó tres combates: Randy Orton vs. Triple H, Goldberg vs. The Undertaker y el Battle Royal de 50 hombres.
Un usuario de twitter ha puesto la cartelera que se está mostrando en Arabia Saudí para este evento:
Roman Reigns vs. Shane McMahon
Kofi Kingston vs. Kevin Owens (WWE Championship)
Seth Rollins vs. Brock Lesnar (WWE Universal Championship)
Finn Balor vs. Andrade (Intercontinental Championship Match)
50-Man Battle Royal. Names included: Buddy Murphy, Bobby Roode, Aleister Black, Daniel Bryan, Rey Mysterio, The Miz, Sami Zayn, AJ Styles, Jey Uso, Cesaro, Cedric Alexander, Bobby Lashley, Baron Corbin, Elias.
Drew McIntyre vs. Braun Strowman
Goldberg vs. The Undertaker
Randy Orton vs. Triple H
Well this the matches being advised for Saudi Arabia credit to owner pic.twitter.com/cEm5IkqBNi

— Kandi💛🎗 (@InspireReigns) 15 de mayo de 2019
Si bien Reigns se ha enfrentado a Shane McMahon en los combates de equipos (más recientemente en el último episodio de SmackDown Live), este será el primer combate individual entre Big Dog y Best in the World.
Además, debe tenerse en cuenta que la lista de los combates está sujeta a cambios, ya que Money in the Bank podría jugar un papel importante en el esquema más amplio de las cosas.
Así que no tomes la publicidad circulante de Super ShowDown como posibles spoilers para MITB, ya que esto podría cambiar.