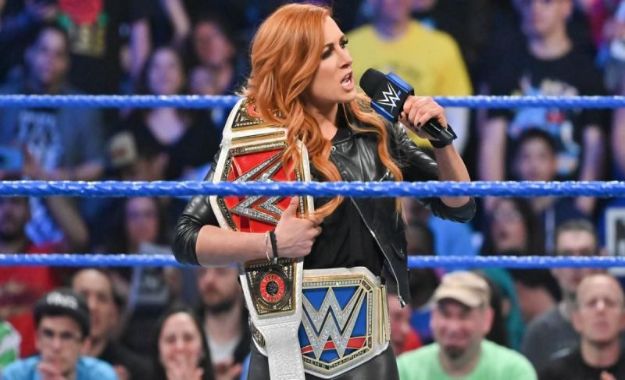 Planes para Becky Lynch en Wrestlemania 36. Aunque queda casi un año para el evento, WWE ya estaría pensando en la posible rival de The Man.
Planes para Becky Lynch en Wrestlemania 36
Anteriormente se informó que WWE quería organizar un combate de Charlotte Flair contra la actual Campeona de Mujeres de RAW y SmackDown, Becky Lynch en WrestleMania 36 en 2020, pero ahora tienen un nuevo plan en mente para Lynch.
WWE está haciendo Flair vs. Lynch en el pay-per-view de WWE Money In the Bank el 19 de mayo porque tienen un nuevo combate planeado para Lynch en WrestleMania 36, según el Wrestling Observer Newsletter. Aún no se sabe a quién se enfrentará en el combate, pero se dice que no es Flair o Ronda Rousey.
Lynch está programada para ser la Superstar femenina más importante y la mejor situada en la cartelera de WrestleMania 36.
Se dijo que si Rousey quiere regresar para WrestleMania 36, un combate con Lynch no está fuera de discusión, pero no es el combate planeado.
Becky Lynch ganó los títulos femeninos RAW y SmackDown Live en WrestleMania 35 este año. Derrotó a la campeona de Monday Night Raw, Ronda Rousey y a la campeona de SmackDown Live, Charlotte Flair, en un combate triple amenaza que cerró el evento
Aunque el combate fue el primero que se realizó como evento principal femenino de WrestleMania, será recordado por el WWE Universe por su acabado fallido. Becky tenía a Rousey inmovilizada, pero las repeticiones mostraron que la entonces Campeona de RAW había levantado los hombros. El árbitro no vio eso y siguió con la cuenta de tres.
Ahora Becky Lynch tendrá dos combates en Money in the Bank, el primero que ya hemos mencionado contra Charlotte Flair por el título de WWE SmackDown y el segundo contra Lacey Evans donde el título de WWE RAW estará en juego.