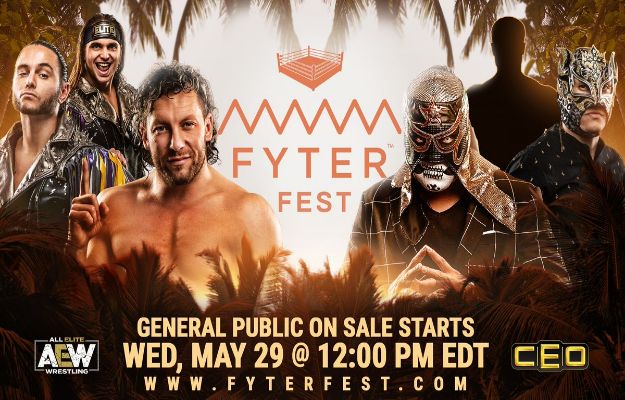 Pac eliminado del evento Fyter Fest de AEW. El luchador británico no estará presente en el evento que se celebrará el próximo 29 de junio.
Pac eliminado del evento Fyter Fest de AEW
PAC ya no se anuncia para Fyter Fest.
En preparación para el show Double Or Nothing de All Elite Wrestling que ocurrió el fin de semana pasado en Las Vegas, Nevada, la compañía anunció que su próximo show titulado «Fyter Fest» se llevará a cabo en junio junto con el CEO Gaming. Recientemente se anunció para ese show el combate de Joey Janela contra Jon Moxley y antes de Double Or Nothing fue un combate de tres contra tres que enfrentaría a The Elite (Kenny Omega y The Young Bucks) contra The Lucha Bros. y PAC. En el gráfico actualizado de Fyter Fest, PAC ya no se anuncia para ese combate de equipo de seis luchadores.
#AEW #FyterFest tickets go on sale in 90 minuteshttps://t.co/weKMCyhGiq pic.twitter.com/n4TSjgetSc

— All Elite Wrestling (@AEWrestling) 29 de mayo de 2019
PAC estaba programado para enfrentarse a Adam «Hangman» Page en Double Or Nothing, pero ese combate tuvo lugar en Wrestlegate Pro en Inglaterra antes del primer show de AEW bajo la bandera de su compañía. Según Dave Meltzer, de Wrestling Observer, la razón por la que la pelea ocurrió temprano fue acreditada como «diferencias creativas».
En Starrcast II, Cody y The Young Bucks expresaron que les encantaría que PAC se uniera a AEW a tiempo completo
#FyterFest #AEW x @CEOGaming
Saturday, June 29th, 2019 #DaytonaBeach
Kenny Omega & The Young Bucks vs Pac & the Lucha Bros
Tickets on sale early May – https://t.co/Zenw0xPAgL pic.twitter.com/5yTPdv9XH3

— All Elite Wrestling (@AEWrestling) 11 de abril de 2019

Veremos si Pac finalmente acaba llegando o no a la empresa, pero si debemos decir que sería un gran elemento dentro del roster de la empresa si estuviera en AEW.