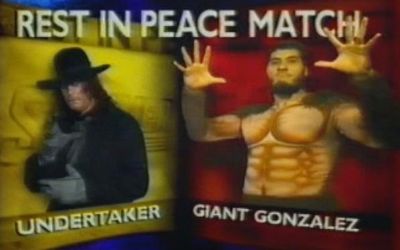 WWE Summerslam 1993
SummerSlam 1993 fue el sexto evento anual de pay-per-view (PPV) de lucha libre profesional de SummerSlam producido por la World Wrestling Federation (WWF). Se llevó a cabo el 30 de agosto de 1993, en el Palacio de Auburn Hills en Auburn Hills, Michigan.
Rivalidades más importantes de SummerSlam 1993
Hoy en la historia de Summerslam repasamos las rivalidades más importantes de la edición de 1993.
Todos los campeonatos defendidos
Los tres campeonatos fueron defendidos en SummerSlam. The Steiner Brothers defendieron los WWF Tag Team Championship contra The Heavenly Bodies, y Shawn Michaels defendió el WWF Intercontinental Championship contra Mr. Perfect. El evento principal vio a Lex Luger desafiar a Yokozuna por el WWF World Heavyweight Championship. Además de los combates por el título, Bret Hart y Jerry Lawler  lucharon por resolver su enemistad y determinar quién sería conocido con el nombre de «Undisputed King of the World Wrestling Federation«.
WWF Tag Team Championships
El combate entre Steiner Brothers y The Heavenly Bodies recibió poca importancia. The Heavenly Bodies eran uno de los tag team con mas exito en Smoky Mountain de Jim Cornette, y un acuerdo interpromotional permitió que desafiaran a The Steiner Brothers por el campeonato de parejas de WWF.
Shawn Michaels y Mr. Perfect
La rivalidad entre Shawn Michaels y Mr. Perfect comenzó en WrestleMania IX. Durante una pelea después del combate entre Lex Luger y Mr. Perfect, Shawn Michaels apareció y atacó a Perfect. Mr. Perfect se vengo al distraer a Michaels en la edición del 17 de mayo de 1993 de Monday Night Raw, permitiendo que Marty Jannetty venciera a Michaels y ganara el Campeonato Intercontinental de WWF. Michaels recuperó el cinturón el mes siguiente con la ayuda de su nuevo guardaespaldas, Diesel.
Lex Luger vs. Yokozuna
La rivalidad de Lex Luger con Yokozuna comenzó el 4 de julio en el Yokozuna Bodyslam Challenge en la cubierta del USS Intrepid. Después de que varios luchadores y otros atletas intentaron hacer un body slam a Yokozuna, Luger llegó en un helicóptero y fue capaz de aplicarle un body slam a Yokozuna, lo que llevó a una oportunidad al título en SummerSlam. Para fomentar el apoyo a Luger, WWF lo hizo viajar a través del país en un autobús llamado Lex Express. El portavoz de Yokozuna, Jim Cornette, aceptó el combate, pero hizo que Lex Luger aceptara dos condiciones. Luger no recibiría una revancha si perdía, y tenia que usar un relleno protector sobre la placa de acero en su antebrazo.
Bret Hart vs. Jerry Lawler
Bret Hart y Jerry Lawler tuvieron una rivalidad acalorada, derivada de que Lawler interrumpiera la ceremonia de victoria de Hart en el torneo del King of the Ring de 1993. Lawler insistió en que él era el verdadero rey de la WWF y atacó a Hart. La rivalidad se intensificó cuando Lawler se burló y atacó a la familia de Bret, incluidos sus padres y su hermano menor Owen.
De acuerdo con una historia contada por Bret Hart en el espectáculo deportivo de TSN Off The Record, Hart originalmente se suponía que lucharía contra Hulk Hogan por el WWF World Heavyweight Championship. Sin embargo, el combate no ocurrió porque Hogan cambió de opinión, ya que supuestamente no estaba contento con el final previsto. Como resultado, Hogan perdió el cinturón ante Yokozuna en el King of the Ring 1993.
Resultados de SummerSlam 1993
Owen Hart derrotó a Barry Horowitz 08:32
Razor Ramon venció a Ted DiBiase 07:32
The Steiner Brothers (Rick & Scott) (c) ganaron a The Heavenly Bodies (Tom Prichard & Jimmy Del Ray) (con Jim Cornette) para retener los WWF Tag Team Championship 09:28
Shawn Michaels (c) (con Diesel) derrotó a Mr. Perfect por countout para retener el WWF Intercontinental Championship 11:20
Irwin R. Schyster venció a The 1-2-3 Kid 05:44
Bret Hart ganó a Doink the Clown (con Jerry Lawler) por DQ 09:05
Jerry Lawler derrotó a Bret Hart por DQ 06:32
Ludvig Borga venció a Marty Jannetty 05:15
The Undertaker (con Paul Bearer) ganó a Giant Gonzalez (con Harvey Wippleman) Rest in Peace match 08:04
Tatanka & The Smoking Gunns (Billy & Bart) derrotaron a Bam Bam Bigelow & The Headshrinkers (Fatu & Samu) (con Afa & Luna Vachon) 11:15
Lex Luger ganó a Yokozuna (c) (con Mr. Fuji & Jim Cornette) por countout en el combate por el WWF World Heavyweight Championship 17:58