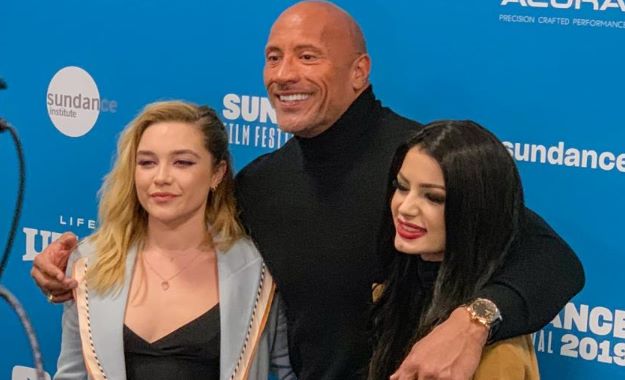 Paige y The Rock en la premiere de la película en el Sundance Festival
El pasado martes 29 de Enero se presentaba «Fighting with my Family», la película sobre la vida de Paige, la superestrella de WWE que tuviera que retirarse hace solo unos meses del ring por una lesión medular. En la premiere, llevada a cabo en el Sundance Festival, la de Norwich estuvo acompañada por el productor, The Rock y muchos protagonistas de este emotivo film.
Antes de la premiere Paige colgaba el siguiente tuit en sus redes sociales:
Today is a very special day for me. The premiere of the movie based on my life is happening here at @sundancefest tonight. Incredible feeling. My family isn't at this one but luckily for me I have my favorite people surrounding me for support. Beautiful. ❤️

— PAIGE (@RealPaigeWWE) 29 de enero de 2019
«Hoy es un día muy especial para mi ya que esta noche es la premiere de la película sobre mi vida, aquí en el Sundance Festival. Una sensación increíble. Mi familia no puede estar conmigo aquí pero tengo a mucha gente maravillosa que me apoya. Precioso».
A lo que respondía Charlotte Flair apoyando a la que fuera denominada Anti-diva:
So happy for you woman #antidiva ♥️

— Charlotte Flair (@MsCharlotteWWE) 29 de enero de 2019
En la alfombra roja, Daywne Johnson, más conocido como The Rock (productor y actor en esta película) comentaba porqué cree que este film es para todos los públicos:
«Creo que esta película también les va a gustar a los que no son fan del wrestling ni de WWE por varios elementos presentes como el apoyo de la familia, la perseverancia o algo en lo que los jóvenes se pueden apoyar que es que si te dicen que no estás preparado para algo no significa que no vayas a conseguirlo».